From March 24th-30th, I hosted Round 2 of Manga Madness Readathon. Here is my Wrap up for #MangaMadnessReadathon. There are 25 Challenges in the form of a Bingo Board and three different options to chooses from:
Option 1: Bingo Board Challenges
Option 2: Read anything you want
Option 3: Stick to one Series. For those of you who want to continue or Finish a series and not switch between different series!
I choose to do the Bingo Board Challenges, although I didn't complete it and get a blackout, I completed 20 Challenges. Even though I didn't get a Blackout, I'm quite happy with what I managed to read: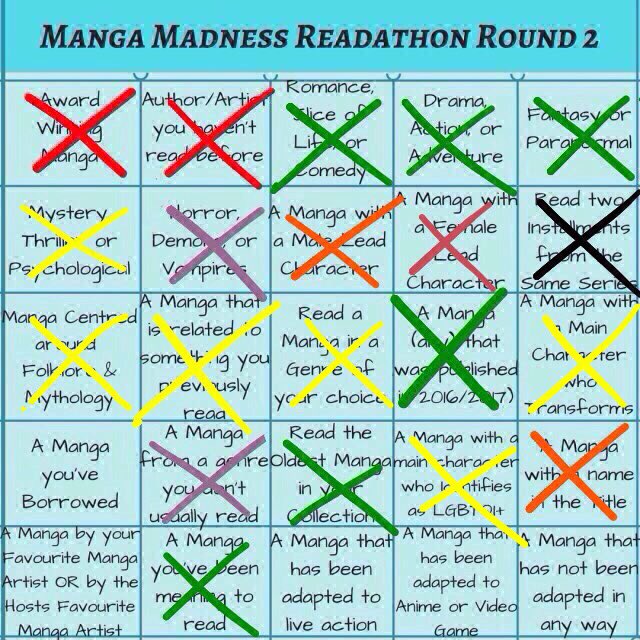 Award Winning Manga – One Piece Volume 49, 50, 51 (Omnibus 17) by Eiichiro Oda
Author/Artist you haven't read before – Karneval Volume 1 by Touya Mikanagi 
Romance, Slice of Life or Comedy – Kiss him, not me Volume 4 by Junko
Drama, Action, or Adventure – Black Clover Volume 2  by Yuki Tabata
Fantasy or Paranormal – Black Clover Volume 3  by Yuki Tabata
Mystery, Thriller, or Psychological – Elfen Lied Volume 1  Lynn Okamoto
Horror, Demons, or Vampires – Bloody Mary Volume 10 by Akaza Samamiya
A Manga with a Male Lead Character – One Piece Volume 52-53-54 (Omnibus 18) by Eiichiro Oda
A Manga with a Female Lead Character – Kiss him, not me Volume 5 by Junko
Read two installments from the Same Series – One Piece Volume 55-56-57 (Omnibus 19) – One Piece Volume 58-59-60 (Omnibus 20) by Eiichiro Oda
Manga Centred around Folklore & Mythology – One Piece Volume 61-62-63 (Omnibus 21) by Eiichiro Oda
A Manga that is related to something you previously read – Fruits Basket Another Volume by Natsuki Takaya
Read a Manga in a Genre of your Choice – One Piece Volume 64-65-66 (Omnibus 22) by Eiichiro Oda
A Manga that was published in 2016/2017 – Black Clover Volume 1 by Yuki Tabata
A Manga with a Main Character who transforms – D.N. Angel Volume 1 by Yukiru Sugisaki
A Manga you've Borrowed
A Manga from a Genre you don't usually read – Ouran High School Host Club Volume 3 by Bisco Hatori
Read the Oldest Manga in your Collection – Black Cat Volume 3 by Kentaro Yabuki
A Manga with a Main Character who identifies as LGBTQ+ – Twinkle (One Shot)
A Manga with a name in the title – Cardcaptor Sakura Volume 1-3 (Omnibus) by CLAMP
A Manga by your favourite Manga Artist OR the Hosts Favourite
A Manga you've been Meaning to read – Fairy Tail: Ice Trail Volume 2
A Manga that has been adapted to Live Action
A Manga that has been adapted to Anime or Video Game
A Manga that has not been adapted in any way 
Did you participate in #MangaMadnessReadathon? Have you read any of these? If so, what did you think of them? Are any of these on your TBR? Let me know in the Comments!
Thank you so much to everyone who participated! If you want to know more about this readathon or want to know when the next round will take place, check out the official Twitter page, @MMReadathon! The next round will probably be in August! I'll let you know on the twitter soon when I decide on the Date  Are you interested in Participating next round? Let me know!