Today is the Second day of the Rainbow-A-Thon. Even though this was for day 1, I didn't do the it yesterday due to having a headache, so I'm doing it today instead. Day 1 of the Blog Challenges is the Rainbow-a-thon book tag.
1. Which book are you most excited to read as part of the read-a-thon?
The book I am most excited about reading during this read-a-thon has to be World's Collide by Chris Colfer. This is the Conclusion to The Land of Stories Series.
2. Which colour was the most difficult for you to find a book for?
Pink is not really my favourite colour and it's not a colour I gravitate towards to when buying books.
3. What's your favourite colour on books and why?
I don't have a favourite colour on books. I do find though that I tend to buy books with blue Covers more than any other colour. It is my favourite colour.
4. Which fictional world would you go to if you had the choice?
I feel like everyone is going to choose the Harry Potter world so I'm going with something different and say The Land of OZ. I would love to be there and walk down the Yellow Brick Road. I've grown up with that world.
5. Which book cover do you like the most out of the books you're reading for the read-a-thon?
I really like the Cover for Yellow Brick War by Danielle Paige.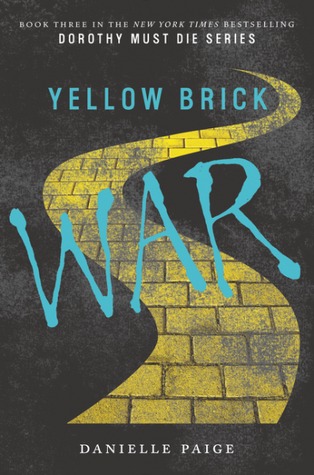 6. Who is your favourite fictional character?
This question is so hard, I have so many favourite characters, but my favourite character of 2017, as stated in my Mid Year Book Freak Out Tag, is Ronan from The Raven Cycle series by Maggie Stiefvater.
7. What is your favourite place to read in summer?
My favourite place to read in the summer is somewhere inside, In an air conditioned room. It's too hot in Australia for Outdoor reading, so I'll settle for reading indoors.
8. Do you think characters should always have a specified sexuality?
I do enjoy reading LGBTQ+ books and seeing representation, but I don't think it always has to be specified. It usually becomes clear later on in books if the character has a love interest. So no, I don't think it has to be blatantly stated.
9. What book made you cry the most?
Clockwork Princess by Cassandra Clare.
10. What is your favourite LGBT+ book?
It would probably be The Gentlemen's Guide to Vice and Virtue. I loved this book so much.
11. What book have you read this year about a character of a different nationality to you?
Almost every book. Most books I've read feature American main characters and I'm Australian.
---
So that is it for the Rainbow Read-a-thon Book Tag. Are you participating in this read-a-thon? Comment down below with your thoughts, feelings, and opinions on any of the books I mentioned or the topics discussed.