This meme is hosted by Lia @ LostInAStory. The aim is to declutter your Goodreads To Be Read shelf. You sort the books on this list on date added (ascending) and do a weekly post discussing a few of them. Read the synopsis and decide whether or not you want to keep them.

Anyway, it works like this: Go to your goodreads to-read shelf, Order on ascending date added, Take the first 5 (or 10 if you're feeling adventurous) books, Read the synopses of the books, Decide: keep it or should it go?
Number of books on my TBR shelf: 1707
Night Shift by Lilith Saintcrow
Jill Kismet. Dealer in Dark Things. Spiritual Exterminator. Demon Slayer. Not everyone can take on the things that go bump in the night. Not everyone tries. But Jill Kismet is not just anyone. She's a Hunter, trained by the best – and in over her head.

Welcome to the night shift…
I don't think this one is strong enough to keep my interest. The plot seems moderately interesting, but the reviews are a bit all over the place and I've got to let some things go.
Do I own it? No
Verdict: REMOVE
Shiloh by Helena Sorensen
In a world of perpetual darkness, a boy is born who wields remarkable power over fire. Amos is no more than seven when he kills a Shadow Wolf and becomes a legend in Shiloh. He would be destined for great things were it not for the stories his father tells about a world beyond the Shadow and a time before the Shadow. Only madmen hold to such tales, and in Shiloh, they have always come to bad ends.

Amos is fearless. He walks with easy confidence, certain that the Shadow cannot touch him. Even his family is in awe of him. His father marvels at his skill with the bow, his mother thanks the gods that he has all the courage she lacks, and his sister, Phebe, worships him for saving her from an attack of the Shadow Cats.

On a trip to the village of Emmerich, Amos rescues the Magistrate's son, Simeon, from the village bullies. Simeon, fair-skinned and pale-eyed like other Dreamers in Shiloh's history, becomes Amos's constant companion and dearest friend. Simeon becomes a part of Amos's family, listening to fireside stories told in a way he's never heard them before and learning to wield a bow and arrow.

The year the boys turn twelve, they are itching to prove themselves. An impetuous plan to steal a beautiful lantern goes miserably awry, and the lantern's owner prophecies that Amos will be devoured by the Shadow. For the first time, a seed of fear is planted in Amos's mind, and when his father is killed by a Shadow Wolf on the last day of the Great Hunt, the fear takes hold. If so great and brave a man as his father could fall to the Shadow, what hope has he?
I love this cover. But after reading the synopsis again, I don't think this is something I would be interested in reading. After reading a few reviews, I'm not entirely sure I'd enjoy this one.
Do I own it? No
Verdict: REMOVE
Cruel Beauty by Rosamund Hodge
Graceling meets Beauty and the Beast in this sweeping fantasy about one girl's journey to fulfill her destiny and the monster who gets in her way-by stealing her heart.

Based on the classic fairy tale Beauty and the Beast, Cruel Beauty is a dazzling love story about our deepest desires and their power to change our destiny.

Since birth, Nyx has been betrothed to the evil ruler of her kingdom-all because of a foolish bargain struck by her father. And since birth, she has been in training to kill him.

With no choice but to fulfill her duty, Nyx resents her family for never trying to save her and hates herself for wanting to escape her fate. Still, on her seventeenth birthday, Nyx abandons everything she's ever known to marry the all-powerful, immortal Ignifex. Her plan? Seduce him, destroy his enchanted castle, and break the nine-hundred-year-old curse he put on her people.

But Ignifex is not at all what Nyx expected. The strangely charming lord beguiles her, and his castle—a shifting maze of magical rooms—enthralls her.

As Nyx searches for a way to free her homeland by uncovering Ignifex's secrets, she finds herself unwillingly drawn to him. Even if she could bring herself to love her sworn enemy, how can she refuse her duty to kill him? With time running out, Nyx must decide what is more important: the future of her kingdom, or the man she was never supposed to love.
I don't need to read the synopsis to know that I still want to read this book. Knowing that this one was claimed as a retelling of Beauty and the Beast, one of my favourite fairy tales of all time, my expectations are pretty high. But let me know in the comments if you've read this. Is It Worth Reading?
Do I own it? No
Verdict: KEEP
Priority Level (1-10, 10 meaning Top Priority)? 5
After the End by Amy Plum
She's searching for answers to her past. They're hunting her to save their future.

World War III has left the world ravaged by nuclear radiation. A lucky few escaped to the Alaskan wilderness. They've survived for the last thirty years by living off the land, being one with nature, and hiding from whoever else might still be out there.

At least, this is what Juneau has been told her entire life.

When Juneau returns from a hunting trip to discover that everyone in her clan has vanished, she sets off to find them. Leaving the boundaries of their land for the very first time, she learns something horrifying: There never was a war. Cities were never destroyed. The world is intact. Everything was a lie.

Now Juneau is adrift in a modern-day world she never knew existed. But while she's trying to find a way to rescue her friends and family, someone else is looking for her. Someone who knows the extraordinary truth about the secrets of her past.
At some point this sounded interesting, but not anymore. I don't have the same motivation to keep it on my TBR.
Do I own it? No
Verdict: REMOVE
Defy by Sara B. Larson
Alexa Hollen is a fighter. Forced to disguise herself as a boy and serve in the king's army, Alex uses her quick wit and fierce sword-fighting skills to earn a spot on the elite prince's guard. But when a powerful sorcerer sneaks into the palace in the dead of night, even Alex, who is virtually unbeatable, can't prevent him from abducting her, her fellow guard and friend Rylan, and Prince Damian, taking them through the treacherous wilds of the jungle and deep into enemy territory.

The longer Alex is held captive with both Rylan and the prince, the more she realizes that she is not the only one who has been keeping dangerous secrets. And suddenly, after her own secret is revealed, Alex finds herself confronted with two men vying for her heart: the safe and steady Rylan, who has always cared for her, and the dark, intriguing Damian. With hidden foes lurking around every corner, is Alex strong enough to save herself and the kingdom she's sworn to protect?
I was planning to read this last year, but I'm not that motivated to read it anymore, nothing in the synopsis really grabs my attention.
Do I own it? No
Verdict: REMOVE
All that Glows by Ryan Graudin 
Emrys—a fiery, red-headed Fae—always embraced her life in the Highlands, far from the city's draining technology, until she's sent to London to rejoin the Faery Guard. But this isn't any normal assignment—she's sent to guard Prince Richard: Britain's notorious, partying bad boy and soon-to-be King. The prince's careless ways and royal blood make him the irresistible for the dark spirits that feed on mortals. Sweet, disheveled, and alive with adventure—Richard is one charge who will put Emrys's magic and heart to the test.

When an ancient force begins preying on the monarchy, Emrys must hunt through the London's magical underworld, facing down Banshees, Black Dogs and Green Women to find the one who threatens Richard's life. In this chaos of dark magic, palace murders and paparazzi, Emrys finds herself facing an impossible choice. For despite all her powers, Emrys has discovered a force that burns brighter than magic: love.
I don't think this book would be right for me.
Do I own it? No
Verdict: REMOVE
Death Sworn by Leah Cypess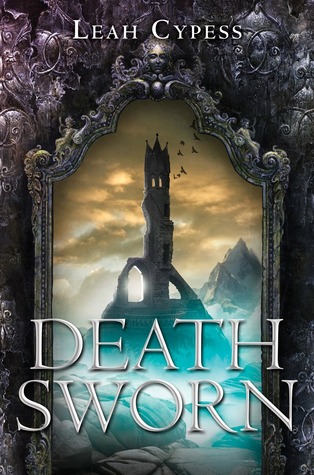 When Ileni lost her magic, she lost everything: her place in society, her purpose in life, and the man she had expected to spend her life with. So when the Elders sent her to be magic tutor to a secret sect of assassins, she went willingly, even though the last two tutors had died under mysterious circumstances.

But beneath the assassins' caves, Ileni will discover a new place and a new purpose… and a new and dangerous love. She will struggle to keep her lost magic a secret while teaching it to her deadly students, and to find out what happened to the two tutors who preceded her. But what she discovers will change not only her future, but the future of her people, the assassins… and possibly the entire world.
I love the cover and the premise seems unique.
Do I own it? No
Verdict: KEEP
Priority Level (1-10, 10 meaning Top Priority)? 3
Half Bad by Sally Green
Wanted by no one.
Hunted by everyone.

Sixteen-year-old Nathan lives in a cage: beaten, shackled, trained to kill. In a modern-day England where two warring factions of witches live amongst humans, Nathan is an abomination, the illegitimate son of the world's most terrifying and violent witch, Marcus. Nathan's only hope for survival is to escape his captors, track down Marcus, and receive the three gifts that will bring him into his own magical powers—before it's too late. But how can Nathan find his father when there is no one safe to trust, not even family, not even the girl he loves?

Half Bad is an international sensation and the start of a brilliant trilogy: a gripping tale of alienation and the indomitable will to survive.
Re-reading the synopsis the premise still seems pretty interesting to me.
Do I own it? No
Verdict: KEEP
Priority Level (1-10, 10 meaning Top Priority)? 8
Love Letters to the Dead by Eva Dellaira
It begins as an assignment for English class: Write a letter to a dead person. Laurel chooses Kurt Cobain because her sister, May, loved him. And he died young, just like May did. Soon, Laurel has a notebook full of letters to people like Janis Joplin, Amy Winehouse, Amelia Earhart, Heath Ledger, and more — though she never gives a single one of them to her teacher. She writes about starting high school, navigating new friendships, falling in love for the first time, learning to live with her splintering family. And, finally, about the abuse she suffered while May was supposed to be looking out for her. Only then, once Laurel has written down the truth about what happened to herself, can she truly begin to accept what happened to May. And only when Laurel has begun to see her sister as the person she was — lovely and amazing and deeply flawed — can she begin to discover her own path in this stunning debut from Ava Dellaira, Love Letters to the Dead.
Before I read the synopsis I was like, what is this, why did I want to read this book. But now I kind of want to read it. I'm not sure.
Do I own it? No
Verdict: KEEP
Priority Level (1-10, 10 meaning Top Priority)? 2
Fates by Lanie Bross
Perfect for fans of Jennifer Armentrout, Julie Kagawa, Rachel Vincent, and Sarah J. Maas, and for girls who love all things pretty, romantic and inspirational.

One moment. One foolish desire. One mistake. And Corinthe lost everything.

She fell from her tranquil life in Pyralis Terra and found herself exiled to the human world. Her punishment? To make sure people's fates unfold according to plan. Now, years later, Corinthe has one last assignment: kill Lucas Kaller. His death will be her ticket home.

But for the first time, Corinthe feels a tingle of doubt. It begins as a lump in her throat, then grows toward her heart, and suddenly she feels like she is falling all over again–this time for a boy she knows she can never have. Because it is written: one of them must live, and one of them must die. In a universe where every moment, every second, every fate has already been decided, where does love fit in?
I don't remember when I put this one on my TBR, but I think it's been there a while. The synopsis sounds somewhat interesting but after skimming reviews, it seems to be pretty average overall so I may as well take it off my list when there are so any other great books out there.
Do I own it? No
Verdict: REMOVE
Faking Normal by Courtney C. Stevens
Alexi Littrell hasn't told anyone what happened to her over the summer. Ashamed and embarrassed, she hides in her closet and compulsively scratches the back of her neck, trying to make the outside hurt more than the inside does.

When Bodee Lennox, the quiet and awkward boy next door, comes to live with the Littrells, Alexi discovers an unlikely friend in "the Kool-Aid Kid," who has secrets of his own. As they lean on each other for support, Alexi gives him the strength to deal with his past, and Bodee helps her find the courage to finally face the truth.
The summary for this sounds kind of meh to me right now and I don't feel any need to actually pick this book up any time soon.
Do I own it? No
Verdict: REMOVE
A Shard of Ice by Alivia Anders
THEIR SOULS, REAWAKENED.

When 13-year-old Lilix Morgan is found alive and floating on a bed of ice at sea, everyone counts it a miracle. Kidnapped nearly four weeks earlier, she remembers nothing of her mysterious abduction. When she tries to remember what happened, she hears only a melody – a faint and delicate set of notes, strung together in a tune she doesn't understand.

THEIR POWER, UNMATCHED.

A year later and desperate to put the lingering nightmares of her past behind her, Lilix crosses the country to enroll at Baelmorte Academy, aiming to become the violinist she once dreamt of. Things seem to be finally going well, and Lilix settles into a routine of sheet music and inspiration among new friends.

Then the dreams start.

The melody and night terrors she thought she'd left behind return with a vengeance, threatening to ruin her fragile version of normalcy. Then an unlikely ally tells her that she isn't alone. That there are others just like her, fighting to hide their own shocking truths from coming to light. That they know who she is, and what she's been through. Now, accompanied by four other girls, Lilix discovers her nightmares are larger than a single trauma; they're a window to a hidden part of her soul, a place of immense power with a destiny that cannot be ignored.

THEIR BATTLE, IS ONLY BEGINNING.

With this knowledge comes a new and frightening reality. For Lilix has been reawakened to stop an age-old enemy, one thought to have been destroyed centuries ago. Trapped by her destiny, Lilix is torn between what feels right and what she remembers. Her memories tell her of a star-crossed love waiting to be reunited, of friendships and trust broken in the past. But can she save that love when reality brings her an enemy, and an evil that will be the undoing of them all if they don't destroy it?
This has a very interesting premise. But reading the synopsis now I'm not sold.
Do I own it? No
Verdict: REMOVE
Earth by Shauna Granger
Shayna and her two best friends have the abilities to manipulate and control the four elements, earth, air, water and fire. While learning to hone their growing powers, they discover a new and malicious presence in their sleepy beach town. Someone is performing blood magic and threatens to expose their small magical community. So far only small animals have been slaughtered, but then the nightmares start.

Shayna suffers nightmares of being chased and sacrificed only to wake up bloodied and bruised. She thinks her magical blood is the ultimate target for the final blood rite. When an innocent girl, Tracy, is kidnapped Shayna knows it's only a ploy to draw her out; she can't let someone die because of her.
This sounds good but not good enough to make me want to read it, so I'm going to remove this one!
Do I own it? No
Verdict: REMOVE
Crossed by Ally Condie
The Society chooses everything.

The books you read.
The music you listen to.
The person you love.

Yet for Cassia the rules have changed. Ky has been taken and she will sacrifice everything to find him.

And when Cassia discovers Ky has escaped to the wild frontiers beyond the Society there is hope.

But on the edge of society nothing is as it seems…

A rebellion is rising.

And a tangled web of lies and double-crosses could destroy everything.
I read the first book about three years ago and I didn't really enjoy it that much. So, I'm not interested in continuing the series.
Do I own it? No
Verdict: REMOVE

Alienated by Melissa Lander
Two years ago, the aliens made contact. Now Cara Sweeney is going to be sharing a bathroom with one of them.

Handpicked to host the first-ever L'eihr exchange student, Cara thinks her future is set. Not only does she get a free ride to her dream college, she'll have inside information about the mysterious L'eihrs that every journalist would kill for. Cara's blog following is about to skyrocket.

Still, Cara isn't sure what to think when she meets Aelyx. Humans and L'eihrs have nearly identical DNA, but cold, infuriatingly brilliant Aelyx couldn't seem more alien. She's certain about one thing, though: no human boy is this good-looking.

But when Cara's classmates get swept up by anti-L'eihr paranoia, Midtown High School suddenly isn't safe anymore. Threatening notes appear in Cara's locker, and a police officer has to escort her and Aelyx to class.

Cara finds support in the last person she expected. She realizes that Aelyx isn't just her only friend; she's fallen hard for him. But Aelyx has been hiding the truth about the purpose of his exchange, and its potentially deadly consequences. Soon Cara will be in for the fight of her life—not just for herself and the boy she loves, but for the future of her planet.
I'm not sure I'll ever read this. It's about aliens, which I'm not interested in reading about. This sounds so stupid now I read it back and totally not something I'd be interested in reading.
Do I own it? No
Verdict: REMOVE
Sekret by Lindsay Smith
An empty mind is a safe mind.

Yulia knows she must hide her thoughts and control her emotions to survive in Communist Russia. But if she sometimes manipulates the black market traders by reading their thoughts when she touches their skin, so what? Anything to help her survive.

Russia's powerful spy agency, the KGB, is recruiting young people with mind-reading capabilities for their psychic espionage program. Their mission: protect the Soviet space program from American CIA spies. Why shouldn't the KGB use any means necessary to make the young psychic cooperate? Anything to beat the American capitalist scum to the moon.

Yulia is a survivor. She won't be controlled by the KGB, who want to harness her abilities for the State with no regard for her own hopes and dreams. She won't let handsome Sergei plan her life as a member of elite Soviet society, or allow brooding Valentin to consume her with his dangerous mind and even more dangerous ideas. And she certainly won't become the next victim of the powerful American spy who can scrub a brain raw—and seems to be targeting Yulia.
I put this one on my TBR mostly for the cover I think. But I reread the synopsis and While it does sound interesting, I don't think I'll be reading this for awhile. Maybe one day but for now, I'm going to remove it.
Do I own it? No
Verdict: REMOVE
Made of Stars by Kelley York
When eighteen-year-old Hunter Jackson and his half sister, Ashlin, return to their dad's for the first winter in years, they expect everything to be just like the warmer months they'd spent there as kids. And it is—at first. But Chance, the charismatic and adventurous boy who made their summers epic, is harboring deep secrets. Secrets that are quickly spiraling into something else entirely.

The reason they've never met Chance's parents or seen his home is becoming clearer. And what the siblings used to think of as Chance's quirks—the outrageous stories, his clinginess, his dangerous impulsiveness—are now warning signs that something is seriously off.

Then Chance's mom turns up with a bullet to the head, and all eyes shift to Chance and his dad. Hunter and Ashlin know Chance is innocent…they just have to prove it. But how can they protect the boy they both love when they can't trust a word Chance says?
Honestly, I don't remember putting this one on my TBR. But I re-read the synopsis and the premise seems pretty interesting to me. So I'll definitely be reading this one soon.
Do I own it? No
Verdict: KEEP
Priority Level (1-10, 10 meaning Top Priority)? 10

Hushed by Kelley York
He's saved her. He's loved her. He's killed for her.

Eighteen-year-old Archer couldn't protect his best friend, Vivian, from what happened when they were kids, so he's never stopped trying to protect her from everything else. It doesn't matter that Vivian only uses him when hopping from one toxic relationship to another—Archer is always there, waiting to be noticed.

Then along comes Evan, the only person who's ever cared about Archer without a single string attached. The harder he falls for Evan, the more Archer sees Vivian for the manipulative hot-mess she really is.

But Viv has her hooks in deep, and when she finds out about the murders Archer's committed and his relationship with Evan, she threatens to turn him in if she doesn't get what she wants… And what she wants is Evan's death, and for Archer to forfeit his last chance at redemption.
This has a very interesting premise but I don't think this book would be right for me. I may still read it one day, but for now I'm removing it.
Do I own it? No
Verdict: REMOVE

What We Hide by Martha Jocelyn
Americans Jenny and her brother, Tom, are off to England: Tom to university, to dodge the Vietnam draft, Jenny to be the new girl at a boarding school, Illington Hall. This is Jenny's chance to finally stand out, so accidentally, on purpose, she tells a lie. But in the small world of Ill Hall, everyone has something to hide. Jenny pretends she has a boyfriend. Robbie and Luke both pretend they don't. Brenda won't tell what happened with the school doctor. Nico wants to hide his mother's memoir. Percy keeps his famous dad a secret. Oona lies to everyone. Penelope lies only to herself.

Deftly told from multiple points of view in various narrative styles, including letters and movie screenplays, What We Hide is provocative, honest, often funny, and always intriguing.
While this sounds like it could be alright, the reviews on this aren't great and my aim is to declutter.
Do I own it? No
Verdict: REMOVE

Mistwalker by Saundra Mitchell
When Willa Dixon's brother dies on the family lobster boat, her father forbids Willa from stepping foot on the deck again. With her family suffering, she'll do anything to help out—even visiting the Grey Man.

Everyone in her small Maine town knows of this legendary spirit who haunts the lighthouse, controlling the fog and the fate of any vessel within his reach. But what Willa finds in the lighthouse isn't a spirit at all, but a young man trapped inside until he collects one thousand souls.

Desperate to escape his cursed existence, Grey tries to seduce Willa to take his place. With her life on land in shambles, will she sacrifice herself?
The synopsis of this one sounds quite interesting. Maybe one day, but for now…
Do I own it? No
Verdict: REMOVE
The Daylight Gate by Jeanette Winterson
GOOD FRIDAY, 1612. Pendle Hill, Lancashire.

A mysterious gathering of thirteen people is interrupted by local magistrate, Roger Nowell. Is this a witches' Sabbat?

Two notorious Lancashire witches are already in Lancaster Castle waiting trial. Why is the beautiful and wealthy Alice Nutter defending them? And why is she among the group of thirteen on Pendle Hill?

Elsewhere, a starved, abused child lurks. And a Jesuit priest and former Gunpowder plotter, recently returned from France, is widely rumoured to be heading for Lancashire. But who will offer him sanctuary? And how quickly can he be caught?

This is the reign of James I, a Protestant King with an obsession: to rid his realm of twin evils, witchcraft and Catholicism, at any price…
When I read the synopsis again I was like "Did I ever even read this synopsis?". I'm not interested in it right now. It doesn't sound like anything I'd like very much.
Do I own it? No
Verdict: REMOVE

Dragon's Oath by P.C. & Kristin Cast
The first in an enthralling new mini-series of novellas from the #1 bestselling authors of the House of Night, Dragon's Oath tells the story behind the House of Night's formidable fencing instructor – the love that will transform him, and the promise that will haunt him

In early 19th century England, long before he's a professor at the Tulsa House of Night, Bryan Lankford is a troublesome yet talented human teen who thinks he can get away with anything… until his father, a wealthy nobleman, has finally had enough, and banishes him to America. When Bryan is Marked on the docks and given the choice between the London House of Night and the dragon-prowed ship to America, he chooses the Dragon – and a brand new fate.

Becoming a Fledgling may be exciting, but it opens a door to a dangerous world…In 1830's St. Louis, the Gateway to the West, Dragon Lankford becomes a Sword Master, and soon realizes there are both frightening challenges and beautiful perks. Like Anastasia, the captivating young Professor of Spells and Rituals at the Tower Grove House of Night, who really should have nothing to do with a fledgling…

But when a dark power threatens, Dragon is caught in its focus. Though his uncanny fighting skills make him a powerful fledgling, is he strong enough to ward off evil, while protecting Anastasia as well? Will his choices save her—or destroy them all? 
I've the first two books in this series and the fourth Novella. I didn't really enjoy them that much. I was going to finish reading this series but now I've completely lost interest in it. So I will be removing it.
Do I own it? No
Verdict: REMOVE

Lenobia's Vow by P.C. & Kristin Cast
The second in the enthralling new mini-series of novellas from the #1 bestselling authors of the House of Night, Lenobia's Vow tells the gripping story behind the House of Night's enigmatic riding instructor – and one of Zoey's closest allies against evil

The House of Night is an international publishing sensation; with almost 12 million books in print, and an incredible 120 weeks on the New York Times bestseller list, the series has taken the world by storm. Now, the excitement continues as the Cast mother-daughter duo shares the back stories of a few of the House of Night's most important – and mysterious – characters. The second of the House of Night Novellas brings us Lenobia, the strong, beautiful horseback riding instructor, who guides Zoey through some of her darkest hours, and has a dark secret buried in her own past…

In a small southern town at the turn of the century, young Lenobia is developing into a beautiful young woman with ideas of her own. But when she is Marked as a fledgling vampyre, her world turns upside down, and she is drawn to the musical streets of New Orleans. There, she learns of the city's dark underbelly, ruled by powerful black magic. As Lenobia experiences her first love – and loss – and discovers a passion for horses to sustain her, she must come face-to-face with Darkness itself. And she may not escape without scars.
Same as Above!
Do I own it? No
Verdict: REMOVE

Neferet's Curse by P.C. & Kristin Cast
The White City, 1893: In turn-of-the-century Chicago, with the World's Fair bringing bustle and excitement to her home city, sixteen-year-old Emily Wheiler should be reveling in her youthful beauty and the excitement around her. But her whole life changed when her mother died, leaving her to be the Lady of Wheiler House. Her father, a powerful bank president, is at the center of an important social hub for the booming young city, and he needs Emily to do everything her mother would have – to be a good hostess and make sure the mansion runs smoothly.

As Emily uneasily tries to replace her mother, she also longs for more… for love and a life of her own. When a handsome young man notices her at one of her father's parties, it seems that her hopes may finally be coming true. Until her father forbids her to see him – or any other man – and starts revealing a darkly violent side that even he can't understand.

At last, afraid for her life and with nowhere to turn, Emily is Marked by a vampyre and brought to the Chicago House of Night, where she begins a magickal new life that should allow the wounds from her past to heal. But as she gains strength, and a powerful new name, she carries a dark need to wreak vengeance on the man she trusted most.

From victim to High Priestess, beautiful young woman to powerful seductress, Neferet's journey begins in NEFERET'S CURSE…from authors P.C. Cast and Kristin Cast.
Same as Above!
Do I own it? No
Verdict: REMOVE

As Dead as It Gets by Katie Alender

It's been three months since Alexis helplessly witnessed Lydia Small's violent death, and all she wants is for her life to return to normal.

But normal people don't see decaying bodies haunting photographs. Normal people don't have to deal with regular intrusions from Lydia's angry ghost, sometimes escalating to terrifying attacks.

At first, it seems that Lydia wants revenge on Alexis alone. But a girl from school disappears one night, and Alexis spots one of Lydia's signature yellow roses lying on the girl's dresser the next day. Soon, it becomes clear that several of Alexis's friends are in danger, and that she's the only person who can save them. But as she tries to intervene, Alexis realizes that her enemy is a much more powerful ghost than she's ever faced before… and that its fate is tied to hers in ways she couldn't possibly imagine.

Not even in her worst nightmares.
This is the third book of this Series, I've read first & Second books and Enjoyed them. So I'll continue this series.
Do I own it? No
Verdict: KEEP
Priority Level (1-10, 10 meaning Top Priority)? 8

I have removed 19\25 books from my TBR this week. Wow! I did really well this month. I am extremely happy with the results. If you enjoyed this & would like to see what else is on my Goodreads TBR, stick around for more.
RUNNING TOTAL OF BOOKS REMOVED: 89
Have you read any of these books? If you've read any of these books, I'd love to hear your opinions about them. How do you feel about my choices? Do you think I've Made the right decisions? Let me know in the Comments.