This meme is hosted by Lia @ LostInAStory. The aim is to declutter your Goodreads To Be Read shelf. You sort the books on this list on date added (ascending) and do a weekly post discussing a few of them. Read the synopsis and decide whether or not you want to keep them.

Anyway, it works like this: Go to your goodreads to-read shelf, Order on ascending date added, Take the first 5 (or 10 if you're feeling adventurous) books, Read the synopses of the books, Decide: keep it or should it go?
Number of books on my TBR shelf: 1742

sTORI Telling by Tori Spelling
This title sees Tori set the record straight on her personal life and lets readers experience the truly unique life she's led – with its undeniable childhood privileges, tabloid misperceptions, career successes, and personal regrets. This is Tori's opportunity to define herself on her own terms.
I'm not much of a memoir reader, but I do want to read this book. Although I probably wont get around to reading this for awhile.
Do I own it? No
Verdict: REMOVE
Uncharted TerriTORI by Tori Spelling
Welcome to Los Angeles, birthplace and residence of Tori Spelling.

It's not every Hollywood starlet whose name greets you on a Virgin Airways flight into la-la land. But Tori Spelling has come to accept that her life is a spectacle. Her name is her brand, and business is booming. Too bad when your job is to be yourself, you can't exactly take a break.

Tori finally has everything she thought she wanted—a loving family and a successful career—but trying to live a normal life in Hollywood is a little weird. With the irresistible wit, attitude, and humor that fans have come to love, the New York Times bestselling author of sTORI telling and Mommywood is back with more hilarious, heartwarming, and candid stories of juggling work, marriage, motherhood, and reality television cameras.

Tori comes clean about doing her time on jury duty, stalking herself on Twitter, discovering her former 90210 castmates' "I Hate Tori" club, contracting swine flu, and contacting Farrah Fawcett from the dead. Like many mothers, she struggles to find balance (Stars, they're just like us!)—only most women don't have to battle it out with paparazzi at the grocery store. She talks openly about the darker side of life in the spotlight: media scrutiny over her weight and her marriage to Dean McDermott, her controversial relationship with Dean's ex-wife, and her unfolding reconciliation with her mother.

Having it all isn't always easy—especially when you're a perfectionist—but with the help of her unconventional family and friends, an underwear-clad spiritual cleansing or two, and faith in herself, she's learning to find her happy ending. Because when you're Tori Spelling, every day brings uncharted terriTORI.

Just when you thought sTORI time was over, the beloved Hollywood starlet has so much more to say.

Same as above
Do I own it? No
Verdict: REMOVE
Spelling It Like It Is by Tori Spelling
Tori Spelling is the first to admit that the reality behind her popular television show, Tori & Dean, isn't always real. Not even Star Magazine could invent the true chaos that happens behind the scenes. Luckily, Tori is famously honest and self-deprecatingly funny when it comes to her personal life. She's always Spelling It Like It Is.

Life is never boring at Tori's house, but since her New York Times bestselling memoirs sTORI Telling, Mommywood, and Uncharted terriTORI, things have been especially unpredictable: Finding out she was pregnant with her third baby after nearly vomiting live on the Home Shopping Network; trying to hide her fourth pregnancy so soon after giving birth (as her stylist said, who would be that crazy?); being rescued from a paparazzo by a mom lynch mob; stalking her celebrity neighbor; and allowing cameras to film every personal detail of her life from the most challenging time in her marriage to the only time in six years when she really felt as though those cameras invaded her privacy.

Tori shares these stories and many more with the usual humor, candor, and down-to-earth charm that her fans love. She also writes openly about her biggest challenges: the terrifying health problems surrounding her high-risk pregnancy with youngest son Finn, her guilt over missing baby Hattie's early months because she was in the hospital on bed rest, her struggles (and failures) to live within her means after growing up in opulence, discovering how much she has in common with her late mega-producer father, Aaron Spelling, and falling in love with Dean all over again (hint: it didn't happen at their vow renewal ceremony).

After years of intimately revealing her everyday antics onscreen, Tori's life is still full of surprises. Slowing down long enough to enjoy them? Now that's another sTORI
Same as Above
Do I own it? No
Verdict: REMOVE
Jason Priestley: A Memoir by Jason Priestley
The hit Fox show Beverly Hills, 90210 became a cultural touchstone of the 1990s and propelled its young cast to mega-stardom, including Jason Priestley, who played honorable Midwestern transplant Brandon Walsh. Yet despite more than twenty years in and out of the limelight, Priestley has carefully maintained his privacy. In this compelling memoir, the actor, director, and race-car aficionado invites us into his private world for the first time.

With humor, sincerity, and charm, Priestley offers little-known details about his life and stories of his nine years in America's most famous zip code. He talks candidly about celebrity, marriage, fatherhood, and his passion for car racing. He does not shy away from the devastating lows—his brief jail sentence for drunk driving and the crash at the Kentucky Speedway that nearly took his life. Priestley shares his innermost thoughts about life as a '90s icon, and goes beyond the Brandon Walsh squeaky-clean image, revealing the tumultuous events that have shaped him, and where he finds his greatest happiness today
Same as Above
Do I own it? No
Verdict: REMOVE
Happy Days by Olly Murs
Olly Murs invites you behind the scenes in his illustrated autobiography filled with hundreds of brand new and exclusive photos.

'My life has been a non-stop roller-coaster of extreme emotions, crazy days, unexpected highs and yet my life hasn't been without its low points too. I've tried to imagine myself sitting down with you explaining what I was thinking and feeling during those times. I hope this book will give you a behind-the-scenes view of my journey into a place where I finally found what had been missing in my life for all those years: music.'

Endearingly written with disarming honesty and filled with exclusive new and unseen photographs on and offstage, Happy Days takes you closer to Olly than you've ever been before.
This is also a Memoir, but I don't think that I'm interested in reading this.
Do I own it? No
Verdict: REMOVE
Compound by S.A. Bodeen
Eli and his family have lived in the underground Compound for six years. The world they knew is gone, and they've become accustomed to their new life. Accustomed, but not happy.

For Eli, no amount of luxury can stifle the dull routine of living in the same place, with only his two sisters, his father and mother, doing the same thing day after day after day.

As problems with their carefully planned existence threaten to destroy their sanctuary—and their sanity—Eli can't help but wonder if he'd rather take his chances outside.

Eli's father built the Compound to keep them safe. But are they safe—or sorry?
When I first put this on my to-read shelf, I was so interested in this and wanted to read it so badly. But I never got around to it and now it is no longer high up on my priority list. I don't read very many Dystopian's and I am just no longer interested in reading this.
Do I own it? No
Verdict: REMOVE

Balefire by Cate Tiernan
The whole Balefire series by Cate Tiernan is now in one edition.


After seventeen-year-old Thais Allard loses her widowed father in a tragic car accident, she is forced to leave the only home she's ever known to live with a total stranger in New Orleans. New Orleans greets Thais with many secrets and mysteries, but none as unbelievable as the moment she comes face to face with the impossible — an identical twin, Clio.

Thais soon learns that she and the twin she never knew come from a family of witches, that she possesses astonishing powers, and that she, along with Clio, has a key role in Balefire, the coven she was born into.

Fiery Clio is less than thrilled to have to share the spotlight, but the twins must learn to combine their powers in order to complete a rite that will transform their lives and the coven forever. 
This is the whole series. This one has been on my TBR for ages and although I haven't gotten around to it, it still seems like it would be a great read. I just don't think I'm interested enough to pick it up.
Do I own it? No
Verdict: REMOVE

Perfection by J.L. Spelbring
The personification of Aryan purity, Ellyssa's spent her whole life under her creator's strict training and guidance; her purpose is to eradicate inferior beings. She was genetically engineered to be the perfect soldier: strong, intelligent, unemotional, and telepathic.

Only Ellyssa isn't perfect. Ellyssa feels emotions–a fact she's spent her life concealing. Until she encounters the epitome of inferiority: a dark-haired boy raised among renegades hiding since the Nazis won the war a century ago. He speaks to her telepathically, pushing thoughts into her mind, despite the impossibility of such a substandard person having psychic abilities.
But he does. 

His unspoken words and visions of a place she's never visited make Ellyssa question her creator. Confused and afraid her secret will be discovered, Ellyssa runs away, embarking on a journey where she discovers there is more to her than perfection. 
This is Dystopian, which I am not that interested I'm reading anymore.
Do I own it? No
Verdict: REMOVE
A Tale for the Time Being by Ruth Ozeki
In Tokyo, sixteen-year-old Nao has decided there's only one escape from her aching loneliness and her classmates' bullying, but before she ends it all, Nao plans to document the life of her great-grandmother, a Buddhist nun who's lived more than a century. A diary is Nao's only solace—and will touch lives in a ways she can scarcely imagine.

Across the Pacific, we meet Ruth, a novelist living on a remote island who discovers a collection of artifacts washed ashore in a Hello Kitty lunchbox—possibly debris from the devastating 2011 tsunami. As the mystery of its contents unfolds, Ruth is pulled into the past, into Nao's drama and her unknown fate, and forward into her own future.

Full of Ozeki's signature humour and deeply engaged with the relationship between writer and reader, past and present, fact and fiction, quantum physics, history, and myth, A Tale for the Time Being is a brilliantly inventive, beguiling story of our shared humanity and the search for home.
I can't wait to read this book. I just haven't had the chance to go pick it up. So I definitely want to read this, I've been wanting to read this for ages now!
Do I own it? No
Verdict: KEEP
Priority Level (1-10, 10 meaning Top Priority)? 9
Life As We Knew It by Susan Beth Pfeffer
Miranda's disbelief turns to fear in a split second when a meteor knocks the moon closer to the earth. How should her family prepare for the future when worldwide tsunamis wipe out the coasts, earthquakes rock the continents, and volcanic ash blocks out the sun? As summer turns to Arctic winter, Miranda, her two brothers, and their mother retreat to the unexpected safe haven of their sunroom, where they subsist on stockpiled food and limited water in the warmth of a wood-burning stove.

Told in journal entries, this is the heart-pounding story of Miranda's struggle to hold on to the most important resource of all–hope–in an increasingly desperate and unfamiliar world.
This is the first book in the Last Survivors series. This is also dystopian, but I'm still interested in this one.
Do I own it? No
Verdict: KEEP
Priority Level (1-10, 10 meaning Top Priority)? 2
Proxy by Alex London
Knox was born into one of the City's wealthiest families. A Patron, he has everything a boy could possibly want—the latest tech, the coolest clothes, and a Proxy to take all his punishments. When Knox breaks a vase, Syd is beaten. When Knox plays a practical joke, Syd is forced to haul rocks. And when Knox crashes a car, killing one of his friends, Syd is branded and sentenced to death.

Syd is a Proxy. His life is not his own.

Then again, neither is Knox's. Knox and Syd have more in common than either would guess. So when Knox and Syd realize that the only way to beat the system is to save each other, they flee. Yet Knox's father is no ordinary Patron, and Syd is no ordinary Proxy. The ensuing cross-country chase will uncover a secret society of rebels, test both boys' resolve, and shine a blinding light onto a world of those who owe and those who pay. Some debts, it turns out, cannot be repaid.
When I first started watching BookTube this series kept coming up in people's mentions. The concept still intrigues me, so I would still like to give this a try.
Do I own it? No
Verdict: KEEP
Priority Level (1-10, 10 meaning Top Priority)? 4
Hero by Perry Moore
The last thing in the world Thom Creed wants is to add to his father's pain, so he keeps secrets. Like that he has special powers. And that he's been asked to join the League – the very organization of superheroes that spurned his dad. But the most painful secret of all is one Thom can barely face himself: he's gay.

But becoming a member of the League opens up a new world to Thom. There, he connects with a misfit group of aspiring heroes, including Scarlett, who can control fire but not her anger; Typhoid Larry, who can make anyone sick with his touch; and Ruth, a wise old broad who can see the future. Like Thom, these heroes have things to hide; but they will have to learn to trust one another when they uncover a deadly conspiracy within the League.

To survive, Thom will face challenges he never imagined. To find happiness, he'll have to come to terms with his father's past and discover the kind of hero he really wants to be.
The synopsis is still interesting enough. I haven't heard much about this book, but the reviews are pretty decent.
Do I own it? No
Verdict: KEEP
Priority Level (1-10, 10 meaning Top Priority)? 5

Huntress by Malinda Lo
Nature is out of balance in the human world. The sun hasn't shone in years, and crops are failing. Worse yet, strange and hostile creatures have begun to appear. The people's survival hangs in the balance.

To solve the crisis, the oracle stones are cast, and Kaede and Taisin, two seventeen-year-old girls, are picked to go on a dangerous and unheard-of journey to Tanlili, the city of the Fairy Queen. Taisin is a sage, thrumming with magic, and Kaede is of the earth, without a speck of the otherworldly. And yet the two girls' destinies are drawn together during the mission. As members of their party succumb to unearthly attacks and fairy tricks, the two come to rely on each other and even begin to fall in love. But the Kingdom needs only one huntress to save it, and what it takes could tear Kaede and Taisin apart forever.

The exciting adventure prequel to Malinda Lo's highly acclaimed novel Ash is overflowing with lush Chinese influences and details inspired by the I Ching, and is filled with action and romance.
I really want to read this, but seeing as this is the prequel the Ash, I think I should read that first. I've heard that you don't need to read Ash first, but reading it first laid out more Groundwork for Huntress. So I will be removing this for now.
Do I own it? No
Verdict: REMOVE
Coda by Emma Trevayne
Ever since he was a young boy, music has coursed through the veins of eighteen-year-old Anthem—the Corp has certainly seen to that. By encoding music with addictive and mind-altering elements, the Corp holds control over all citizens, particularly conduits like Anthem, whose life energy feeds the main power in the Grid.

Anthem finds hope and comfort in the twin siblings he cares for, even as he watches the life drain slowly and painfully from his father. Escape is found in his underground rock band, where music sounds free, clear, and unencoded deep in an abandoned basement. But when a band member dies suspiciously from a tracking overdose, Anthem knows that his time has suddenly become limited. Revolution all but sings in the air, and Anthem cannot help but answer the call with the chords of choice and free will. But will the girl he loves help or hinder him?
I haven't heard a lot about this book but what I have I've liked. I'm quite intrigued by the concept. So I am still planning on reading this.
Do I own it? No
Verdict: KEEP
Priority Level (1-10, 10 meaning Top Priority)? 6
Suicide Watch by Kelley York
18-year-old Vincent Hazelwood has spent his entire life being shuffled from one foster home to the next. His grades sucked. Making friends? Out of the question thanks to his nervous breakdowns and unpredictable moods. Still, Vince thought when Maggie Atkins took him in, he might've finally found a place to get his life—and his issues—in order.

But then Maggie keels over from a heart attack. Vince is homeless, alone, and the inheritance money isn't going to last long. A year ago, Vince watched a girl leap to her death off a bridge, and now he's starting to think she had the right idea.

Vince stumbles across a website forum geared toward people considering suicide. There, he meets others with the same debate regarding the pros and cons of death: Casper, battling cancer, would rather off herself than slowly waste away. And there's quiet, withdrawn Adam, who suspects if he died, his mom wouldn't even notice.

As they gravitate toward each other, Vince searches for a reason to live while coping without Maggie's guidance, coming to terms with Casper's imminent death, and falling in love with a boy who doesn't plan on sticking around.
This book sounds rather good, but I don't know anyone who's read it, and I'm on the fence about whether to keep it. But I do find the concept of this book really interesting.
Do I own it? No
Verdict: KEEP
Priority Level (1-10, 10 meaning Top Priority)? 4
The Testing by Joelle Charbonneau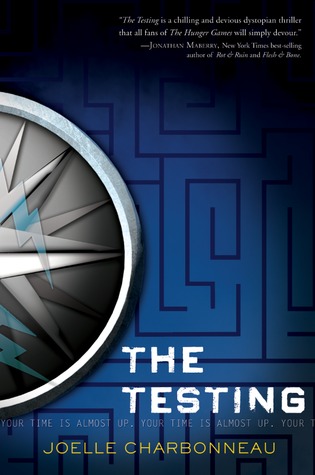 Keep your friends close and your enemies closer. Isn't that what they say? But how close is too close when they may be one and the same?

The Seven Stages War left much of the planet a charred wasteland. The future belongs to the next generation's chosen few who must rebuild it. But to enter this elite group, candidates must first pass The Testing—their one chance at a college education and a rewarding career.

Cia Vale is honoured to be chosen as a Testing candidate; eager to prove her worthiness as a University student and future leader of the United Commonwealth. But on the eve of her departure, her father's advice hints at a darker side to her upcoming studies–trust no one.

But surely she can trust Tomas, her handsome childhood friend who offers an alliance? Tomas, who seems to care more about her with the passing of every grueling (and deadly) day of the Testing. To survive, Cia must choose: love without truth or life without trust.
I was really indecisive about this one, but I think I'm gonna have to let it go simply because I don't want to read it as much as other books.
Do I own it? No
Verdict: REMOVE
What's Left of Me by Kat Zhang
I should not exist. But I do.

Eva and Addie started out the same way as everyone else—two souls woven together in one body, taking turns controlling their movements as they learned how to walk, how to sing, how to dance. But as they grew, so did the worried whispers. Why aren't they settling? Why isn't one of them fading? The doctors ran tests, the neighbors shied away, and their parents begged for more time. Finally Addie was pronounced healthy and Eva was declared gone. Except, she wasn't . . .

For the past three years, Eva has clung to the remnants of her life. Only Addie knows she's still there, trapped inside their body. Then one day, they discover there may be a way for Eva to move again. The risks are unimaginable-hybrids are considered a threat to society, so if they are caught, Addie and Eva will be locked away with the others. And yet . . . for a chance to smile, to twirl, to speak, Eva will do anything.
I love the whole Concept of two souls in one body.

Do I own it? No
Verdict: KEEP
Priority Level (1-10, 10 meaning Top Priority)? 7
What's Left of Me by Amanda Maxlyn
Life works in mysterious ways.

Four years ago I became known as the girl with cancer.

I refuse to cry.

And I refuse to give in.

A relationship with a man is the last thing I'm looking for right now, but one night with Parker changes everything. He is persistent, and he knows what he wants.

Me.

He doesn't treat me like I'm fragile.

But he doesn't know, and I'm not ready to tell him.

What if it changes everything?
Tragedy found me when I was seventeen.

Love found me when I was twenty-one.

My name is Aundrea McCall, and this is my journey.
I don't even like Romance, so I don't know why I added this.
Do I own it? No
Verdict: REMOVE
The Bone Key by Sarah Monette
The dead and the monstrous will not leave Kyle Murchison Booth alone, for an unwilling foray into necromancy has made him sensitive to–and attractive to–the creatures who roam the darkness of his once-safe world. Ghosts, ghouls, incubi: all have one thing in common. They know Booth for one of their own . . .
I don't actually remember adding this one, but I doesn't sound that interesting. I haven't heard anything about this book, and the Synopsis doesn't tell me much either. So I think I will remove it.
Do I own it? No
Verdict: REMOVE
Spellbound by Cara Lynn Shultz
What's a girl to do when meeting The One means she's cursed to die a horrible death?

Life hasn't been easy on sixteen-year-old Emma Connor, so a new start in New York may be just the change she needs. But the posh Upper East Side prep school she has to attend? Not so much. Friendly faces are few and far between, except for one that she's irresistibly drawn to— Brendan Salinger, the guy with the rock-star good looks and the richest kid in school, who might just be her very own white knight.

But even when Brendan inexplicably turns cold, Emma can't stop staring. Ever since she laid eyes on him, strange things have been happening. Streetlamps go out wherever she walks, and Emma's been having the oddest dreams: visions of herself in past lives— visions that warn her to stay away from Brendan. Or else.
This book sounds rather good, but I don't know anyone who's read it, and I'm on the fence about whether to keep it. Since I don't really have a reason to keep it, I think I'll remove it.
Do I own it? No
Verdict: REMOVE
The Fallen Star by Jessica Sorensen
For eighteen year-old Gemma, life has never been normal. Up until recently, she has been incapable of feeling emotion. And when she's around Alex, the gorgeous new guy at school, she can feel electricity that makes her skin buzz. Not to mention the monsters that haunt her nightmares have crossed over into real-life. But with Alex seeming to hate her and secrets popping up everywhere, Gemma's life is turning into a chaotic mess. Things that shouldn't be real suddenly seem to exist. And as her world falls apart, figuring out the secrets of her past becomes a matter of life and death.
Another book that I haven't heard anything about and I'm not interested in reading, So I'm removing it. The Synopsis just doesn't make me want to read it.
Do I own it? No
Verdict: REMOVE
Ever Shade by Alexia Purdy
Magic and malice abound in the land of Faerie. A dark twist on faeries. For Shade, a chance meeting with a powerful Teleen faery warrior who wields electrical currents and blue fires along his skin, has her joining him on a treacherous mission for the good Seelie Faerie Court across the land of Faerie. Paperback includes the prequel: Evangeline. Books in this series: Prequel: Evangeline, Book 1: Ever Shade, Book 2: Ever Fire, Book 3: Ever Winter, Book 3.5: The Cursed, Book 4: Ever Wrath, Book 5: History of Fire, Book 6: Ever Dead, Book 7: Legends of Fire, Book 8: Guardians of Fir
I enjoy reading books about faeries, but this one doesn't sound interesting at all.
Do I own it? No
Verdict: REMOVE

Lament by Maggie Stiefvater
Sixteen-year-old Deirdre Monaghan is a painfully shy but prodigiously gifted musician. She's about to find out she's also a cloverhand—one who can see faeries. Deirdre finds herself infatuated with a mysterious boy who enters her ordinary suburban life, seemingly out of thin air. Trouble is, the enigmatic and gorgeous Luke turns out to be a gallowglass—a soulless faerie assassin. An equally hunky—and equally dangerous—dark faerie soldier named Aodhan is also stalking Deirdre. Sworn enemies, Luke and Aodhan each have a deadly assignment from the Faerie Queen. Namely, kill Deirdre before her music captures the attention of the Fae and threatens the Queen's sovereignty. Caught in the crossfire with Deirdre is James, her wisecracking but loyal best friend. Deirdre had been wishing her life weren't so dull, but getting trapped in the middle of a centuries-old faerie war isn't exactly what she had in mind . . .

Lament is a dark faerie fantasy that features authentic Celtic faerie lore, plus cover art and interior illustrations by acclaimed faerie artist Julia Jeffrey.
Lament is the debut novel of acclaimed young adult author Maggie Stiefvater, the Author behind The Raven Cycle series. Lament is the first book of the 'Books of Fairie' and it was published in 2008. I will definitely read this since I loved The Raven Cycle Series.
Do I own it? No
Verdict: KEEP
Priority Level (1-10, 10 meaning Top Priority)? 5
Wicked: The Life & Times of the Wicked Witch of the West
When Dorothy triumphed over the Wicked Witch of the West in L. Frank Baum's classic tale we heard only her side of the story. But what about her arch-nemesis, the mysterious Witch? Where did she come from? How did she become so wicked? And what is the true nature of evil?

Gregory Maguire creates a fantasy world so rich and vivid that we will never look at Oz the same way again. Wicked is about a land where animals talk and strive to be treated like first-class citizens, Munchkinlanders seek the comfort of middle-class stability, and the Tin Man becomes a victim of domestic violence. And then there is the little green-skinned girl named Elphaba, who will grow up to become the infamous Wicked Witch of the West, a smart, prickly, and misunderstood creature who challenges all our preconceived notions about the nature of good and evil.

An astonishingly rich re-creation of the land of Oz, this book retells the story of Elphaba, the Wicked Witch of the West, who wasn't so wicked after all. Taking readers past the yellow brick road and into a phantasmagoric world rich with imagination and allegory, Gregory Maguire just might change the reputation of one of the most sinister characters in literature. 
I have obviously been wanting to read this book for AGES. I have been a lifelong fan of Wizard of Oz, and as a child I regularly watched the movie every time it was on TV, Although I still haven't read Baum's Oz Books.
Do I own it? No
Verdict: KEEP
Priority Level (1-10, 10 meaning Top Priority)? 8
The Light Between Oceans by ML. Stedman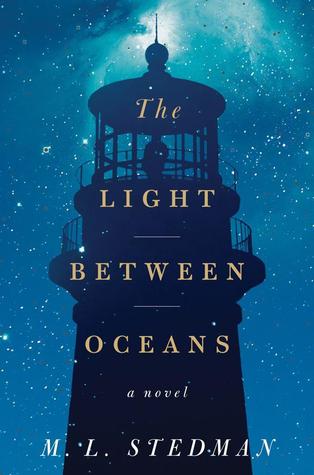 After four harrowing years on the Western Front, Tom Sherbourne returns to Australia and takes a job as the lighthouse keeper on Janus Rock, nearly half a day's journey from the coast. To this isolated island, where the supply boat comes once a season and shore leaves are granted every other year at best, Tom brings a young, bold, and loving wife, Isabel. Years later, after two miscarriages and one stillbirth, the grieving Isabel hears a baby's cries on the wind. A boat has washed up onshore carrying a dead man and a living baby.

Tom, whose records as a lighthouse keeper are meticulous and whose moral principles have withstood a horrific war, wants to report the man and infant immediately. But Isabel has taken the tiny baby to her breast. Against Tom's judgment, they claim her as their own and name her Lucy. When she is two, Tom and Isabel return to the mainland and are reminded that there are other people in the world. Their choice has devastated one of them.

M. L. Stedman's mesmerizing, beautifully written novel seduces us into accommodating Isabel's decision to keep this "gift from God." And we are swept into a story about extraordinarily compelling characters seeking to find their North Star in a world where there is no right answer, where justice for one person is another's tragic loss.

The Light Between Oceans is exquisite and unforgettable, a deeply moving novel.
The Light Between Oceans has been waiting on my TBR list for quite some time and I'm still interested in reading it.
Do I own it? No
Verdict: KEEP
Priority Level (1-10, 10 meaning Top Priority)? 3

I have removed 15\25 books from my TBR this week. I am extremely happy with the results this week. I am feeling good about this! I have a very long way to go, but I am confident that I can do it! If you enjoyed this & would like to see what else is on my Goodreads TBR, stick around for more.
RUNNING TOTAL OF BOOKS REMOVED: 70
Have you read any of these books? If you've read any of these books, I'd love to hear your opinions about them. How do you feel about my choices? Do you think I've Made the right decisions? Let me know in the Comments.