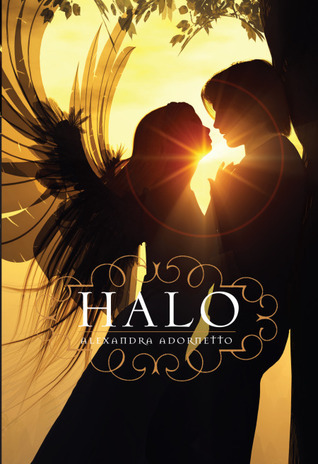 Halo by Alexandra Adornetto
Published by: HarperCollins
Publication Date: August 1st, 2010
Series: Halo, #1
Genres: Young Adult, Paranormal
Format: Paperback
Pages: 485
Rating: 

Date Read: 11/04/2014
Links:
Nothing much happens in the sleepy town of Venus Cove. But everything changes when three angels, Ivy, Bethany and Gabriel are sent from heaven to protect the town against the gathering forces of darkness. They work hard to conceal their true identity and, most of all, their wings.

But the mission is threatened when the youngest angel, Bethany, is sent to high school and falls for the handsome school captain, Xavier Woods. Will she defy the laws of Heaven by loving him?

Things come to a head when the angels realize they are not the only supernatural power in Venus Cove. There′s a new kid in town and he′s charming, seductive and deadly. Worst of all, he′s after Beth.

The angels and Xavier must work together to overcome the dark forces – but will Beth survive the battle?

′Halo enchanted me from the very first page. ′Claudia Gray, #1 best-selling author of Evernight series.
This book takes place in a fictional Town, Venus Cove. Nothing ever happens in this quiet, sleepy town until three angels – Bethany, Gabriel and Ivy – are sent to Venus Cove from Heaven on a mission to shelter the town against the gathering dark forces of Lucifer's demons. But soon their mission is threatened when the youngest and least experienced angel Bethany, falls in love with Xavier Woods, the school captain of Bryce Hamilton.
"One of the most frustrating words in the human language, as far as I could tell, was love. So much meaning attached to this one little word. People bandied it about freely, using it to describe their attachments to possessions, pets, vacation destinations, and favourite foods. In the same breath they then applied this word to the person they considered most important in their lives. Wasn't that insulting? Shouldn't there be some other term to describe deeper emotion?"
The two quickly become a couple even though it defies the laws of Heaven and the story revolves completely around their forbidden love until the arrival of Jake Thorn, a transfer student which changes everything.
Though this book was not perfect it had many strong points. The romance at times was overdone, the "I would die without you" stuff can get annoying after awhile, but I found the characters and circumstances very refreshing and real. I also enjoyed the plot and was propelled to keep reading.
"That was one of the saddest things about people–their most important thoughts and feelings often went unspoken and barely understood."
Also, I did really enjoy the characters and challenges they went through. The characters are quite likable. Unfortunately, I had some problems with Bethany. I know she's supposed to be naïve due to her inexperience on Earth, but she can be quite aggravating at times.
Her two siblings' differing personalities, stern Gabriel and gentle Ivy, were well-done and interesting contrasts, and while they didn't have any development, they were very true to the myth-linked personas the author builds for them. I liked both of them throughout the book. Bethany's character, however, seemed to get more annoying and less strong with every chapter.
"Sometimes it's better to stop trying to make sense of things. Life isn't clear cut, there are always grey areas."  
Bethany and Xavier's relationship… I wanted to love it. It was very sweet, very cute, but I just couldn't get over its lack of depth. It is so easy for authors to write impassioned descriptions of feeling, or glowing physical praise, or declarations of eternal love and loyalty. But when these things have no foundation, they also have no meaning. Bethany and Xavier had no foundation beyond the standard "fated love/infatuation at first meeting based mainly on how beautiful and witty the other person is." And then from there it dives right into the "can't live without you or I'll shrivel up and die because I need you, you are my soulmate" stage.
"A man in love can do extraordinary things, I don't care if you're an angel, you're my angel, and I won't let you go."
The plot was so slow and dragging sometimes that I couldn't get as captivated in it as I wanted to. The story moved along rather slowly. I kept wanting it to pick up the pace, especially since the reader has over 480 pages to go through. It felt stalled in many chapters with no steam left to push it along.
Ignoring my problems with the book, the ending had some redeeming qualities. The final battle was somewhat interesting. The story itself had a decent premise. However there was very minimal action until like the last 100 pages. I actually did enjoy parts of this story, and some of the characters and premises had great potential. I liked it enough to read it through the end. However at the same time I was expecting so much more from this story.
However, I thought that potential was utterly destroyed once Beth met Xavier. She's supposed to be a divine being, an angel sent to Earth to battle the dark forces and rescue humanity. Instead, she enrols into a high school, meets a boy, and for the majority of the book it's all about her getting butterflies from looking at him, obsessing about the way she looks, getting jealous over his relationship with his 'deceased' ex-girlfriend.
All in all this was an interesting book. I would recommend this to those who enjoy romance, especially supernatural romance.