This meme is hosted by Lia @ LostInAStory. The aim is to declutter your Goodreads To Be Read shelf. You sort the books on this list on date added (ascending) and do a weekly post discussing a few of them. Read the synopsis and decide whether or not you want to keep them.

Anyway, it works like this: Go to your goodreads to-read shelf, Order on ascending date added, Take the first 5 (or 10 if you're feeling adventurous) books, Read the synopses of the books, Decide: keep it or should it go?
Number of books on my TBR shelf: 1742
Of Poseidon by Anna Banks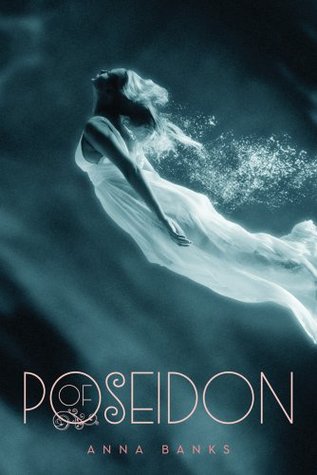 Galen is the prince of the Syrena, sent to land to find a girl he's heard can communicate with fish. Emma is on vacation at the beach. When she runs into Galen—literally, ouch!—both teens sense a connection. But it will take several encounters, including a deadly one with a shark, for Galen to be convinced of Emma's gifts. Now, if he can only convince Emma that she holds the key to his kingdom…

Told from both Emma and Galen's points of view, here is a fish-out-of-water story that sparkles with intrigue, humor, and waves of romance. 
This one's tough! I actually own this book, so many people seem to love it and the concept sounds interesting. I've had it on my TBR for ages and haven't picked it up yet. If you've read this, let me know what you thought of it in the comments. For now I'll keep it.
Do I own it? Yes
Verdict: KEEP
Priority Level (1-10, 10 meaning Top Priority)? 4
The Chaos of Stars by Kiersten White
Kiersten White, New York Times bestselling author of Paranormalcy, is back with The Chaos of Stars—an enchanting novel set in Egypt and San Diego that captures the magic of first love and the eternally complicated truth about family.

Isadora's family is seriously screwed up—which comes with the territory when you're the human daughter of the ancient Egyptian gods Isis and Osiris. Isadora is tired of living with crazy relatives who think she's only worthy of a passing glance—so when she gets the chance to move to California with her brother, she jumps on it. But her new life comes with plenty of its own dramatic—and dangerous—complications . . . and Isadora quickly learns there's no such thing as a clean break from family.

Blending Ally Carter's humor and the romance of Cynthia Hand's Unearthly, The Chaos of Stars takes readers on an unforgettable journey halfway across the world and back, and proves there's no place like home.
It still sounds interesting, I still have the intentions of getting to this one someday… because the premise and the plot seems really good.
Do I own it? No
Verdict: KEEP
Priority Level (1-10, 10 meaning Top Priority)? 6
Gods and Warriors by Michelle Paver
From a time of myths and ancient magic will come the legend of the lost city of Atlantis, tales of gods and warriors – and the rise of a hero.

His sister is missing. His dog has been killed. High in the Greek mountains, Hylas is running for his life.

The mysterious black warriors want Hylas dead. So begins his quest across land and sea with only a girl and a dolphin by his side. But the warriors are relentless. Why are they hunting Hylas – and how will he survive?
Even though the premise sounds really intriguing and I am fairly interested in the subject here, this is the case of "too many books, not enough time". Since the answer to "Do you really plan on reading it?" is: I don't know, I think I'll just have to remove it from the list.
Do I own it? No
Verdict: REMOVE
The Future of Us by Jay Asher
It's 1996, and Josh and Emma have been neighbors their whole lives. They've been best friends almost as long—at least, up until last November, when Josh did something that changed everything. Things have been weird between them ever since, but when Josh's family gets a free AOL CD in the mail, his mom makes him bring it over so that Emma can install it on her new computer. When they sign on, they're automatically logged onto their Facebook pages. But Facebook hasn't been invented yet. And they're looking at themselves fifteen years in the future.

By refreshing their pages, they learn that making different decisions now will affect the outcome of their lives later. And as they grapple with the ups and downs of what their futures hold, they're forced to confront what they're doing right—and wrong—in the present.
I've been excited about this book for ages. I just never got around to reading it! It still sounds interesting, so I'll keep it.
Do I own it? No
Verdict: KEEP
Priority Level (1-10, 10 meaning Top Priority)? 9
Geography Club by Brent Hartinger
I knew that any wrong action, however slight, could reveal my true identity…

Russel is still going on dates with girls. Kevin would do anything to prevent his teammates on the baseball team from finding out. Min and Terese tell everyone they're really just good friends. But after a while, the truth's too hard to hide – at least from each other – so they form the "Geography Club." Nobody else will come. Why would they want to? Their secret should be safe.

Russel Middlebrook is convinced he's the only gay kid at Robert L. Goodkind High School. Then his online gay-chat buddy turns out to be none other than Kevin, the popular but closeted star of the school's baseball team. Soon Russel meets other gay students too. There's his best friend, Min, who reveals she's bisexual; Min's soccer-playing girlfriend, Terese; and Terese's politically active friend, Ike.

But how can kids this diverse get together without drawing attention to themselves?

"We just choose a club that's so boring nobody in their right mind would ever in a million years join it. We could call in the Geography Club!"

Geography Club for anyone, gay or straight, who's ever felt like an outsider — a fast-paced and funny tale of teenagers who may not learn any actual geography in their latest club, but who discover plenty about the treacherous social terrain of high school, and the even more dangerous landscape of the human heart.
I have been meaning to read this one for ages, since I watched the Movie! I'll keep it.
Do I own it? No
Verdict: KEEP
Priority Level (1-10, 10 meaning Top Priority)? 10
Star-Crossed by Francis Kelly
A romantic anthology of epic love stories through time

Featuring tales from Greek mythology to 20th century artists and from Shakespearean characters through to 19th century poets, this is a book for teens and twenty-somethings who may be well versed in 21st century romance, but will be reassured by discovering that finding true love has never been easy.
When I first put this on my to-read shelf, I was so interested in this and wanted to read it. But I never got around to it and now it is no longer so high up. I am just no longer interested in reading this. Maybe in the future I will eventually want to read it and can add it back on but for now I don't see it happening.
Do I own it? No
Verdict: REMOVE
The Hollow by Jessica Verday
A love like no other…

When Abbey's best friend, Kristen, vanishes at the bridge near Sleepy Hollow Cemetery, everyone else is all too quick to accept that Kristen is dead…and rumors fly that her death was no accident. Abbey goes through the motions of mourning her best friend, but privately, she refuses to believe that Kristen is really gone. Then she meets Caspian, the gorgeous and mysterious boy who shows up out of nowhere at Kristen's funeral and keeps reappearing in Abbey's life. Caspian clearly has secrets of his own, but he's the only person who makes Abbey feel normal again…but also special.

Just when Abbey starts to feel that she might survive all this, she learns a secret that makes her question everything she thought she knew about her best friend. How could Kristen have kept silent about so much? And could this secret have led to her death? As Abbey struggles to understand Kristen's betrayal, she uncovers a frightening truth that nearly unravels her – one that will challenge her emerging love for Caspian, as well as her own sanity.
This one has been on my TBR for ages and although I haven't gotten around to it, it still seems like it would be a great read. So I am going to keep this one!
Do I own it? No
Verdict: KEEP
Priority Level (1-10, 10 meaning Top Priority)? 4
Darkest Fear by Cate Tiernan
Vivi's animal instincts are her legacy—and maybe her downfall—in this start to a romantic fantasy series that will appeal to fans of The Nine Lives of Chloe King.

Vivi has known the truth about her family—and herself—since she was thirteen. But that doesn't mean she's accepted it. Being Haguari isn't something she feels she'll ever accept. How can she feel like anything but a freak knowing that it's in her genes to turn into a jaguar?

Now eighteen, Vivi's ready to break away from the traditions of her heritage. But all of that changes with the shocking, devastating deaths of her parents and the mysteries left behind. Vivi discovers family she never even knew she had, and a life open with possibility. New friends, new loyalties, and even romance all lay ahead—but so do dangers unlike anything Vivi ever could have imagined
Re-reading the synopsis, I just don't think I will ever be interested enough to ever pick it up..so this one I'm thinking is going to go.
Do I own it? No
Verdict: REMOVE
The Sight by Judy Blundell

A pair of supernatural mysteries from National Book Award winner Judy Blundell.

Gracie has premonitions.

They've haunted her since before her mother's death, and she can't get rid of them. She doesn't know how to deal with them and she doesn't want to–they've never led to anything good. She never knows whether she's seeing the past, the present, or the future–it just comes to her.

But Gracie is forced to try to use her premonitions. Her best friend, Emily, disappears, and the premonitions lead to the only clues to where she might be–and how she might be saved. Gracie's long-absent father returns, and his history seems mysteriously linked to the disappearance of a student many years ago–and the recent appearance of a body. Gracie's premonitions can lead to answers…but they can also unearth some dark secrets better left unknown.

In these two novels, now in one volume, National Book award winner Judy Blundell takes readers on a suspenseful journey where premonitions become a matter of life and death.
I don't even remember when (or why) I put this book on my TBR. But I re-read the synopsis and I'm not too impressed, so I think this one has to go!
Do I own it? No
Verdict: REMOVE
The Book Thief by Markus Zusak
It's just a small story really, about among other things: a girl, some words, an accordionist, some fanatical Germans, a Jewish fist-fighter, and quite a lot of thievery. . . .

Set during World War II in Germany, Markus Zusak's groundbreaking new novel is the story of Liesel Meminger, a foster girl living outside of Munich. Liesel scratches out a meager existence for herself by stealing when she encounters something she can't resist–books. With the help of her accordion-playing foster father, she learns to read and shares her stolen books with her neighbors during bombing raids as well as with the Jewish man hidden in her basement before he is marched to Dachau.

This is an unforgettable story about the ability of books to feed the soul. 
I have had this on my bookshelf for a while. I definitely want to read this but I am waiting for the time when I can sit down and just immerse myself in it.
Do I own it? Yes
Verdict: KEEP
Priority Level (1-10, 10 meaning Top Priority)? 8
I have removed 4\10 books from my TBR this week. If you enjoyed this & would like to see what else is on my Goodreads TBR, stick around for more.
RUNNING TOTAL OF BOOKS REMOVED: 55
Have you read any of these books? If you've read any of these books, I'd love to hear your opinions about them. How do you feel about my choices? Do you think I've Made the right decisions?