This meme is hosted by Lia @ LostInAStory. The aim is to declutter your Goodreads To Be Read shelf. You sort the books on this list on date added (ascending) and do a weekly post discussing a few of them. Read the synopsis and decide whether or not you want to keep them.

Anyway, it works like this: Go to your goodreads to-read shelf, Order on ascending date added, Take the first 5 (or 10 if you're feeling adventurous) books, Read the synopses of the books, Decide: keep it or should it go?
Number of books on my TBR shelf: 1742
Tomorrow When the War Began by John Marsden
When Ellie and her friends return from a camping trip in the Australian bush, they find things hideously wrong — their families are gone. Gradually they begin to comprehend that their country has been invaded and everyone in their town has been taken prisoner. As the reality of the situation hits them, they must make a decision — run and hide, give themselves up and be with their families, or fight back.
This is the first book in the Tomorrow Series, I have heard a lot about this series, and I've seen the Movie. This book has been grabbing my attention for years. The synopsis looks interesting, but there are so many books in the series. This will probably be on someday/maybe for a long time.
Do I own it? No
Verdict: REMOVE
While I Live by John Marsden
Internationally bestselling author John Marsden takes us beyond The Tomorrow Series … but the war isn't over.

For Ellie Linton, being back on the farm with her parents is what makes the terrible things that happened during the war — the things she, Homer, Lee, Fi, and the others had to do — all worthwhile. It's where she belongs.

But the war won't let her go. A devastating tragedy has shattered any hope she ever had to reclaim her life, or herself. It's a new kind of fight. And the enemy isn't always from the other side of the border.

Another spectacular novel of war and its consequences by bestselling author John Marsden.
This is the first book in The Ellie Chronicles, which is the Sequel series to The Tomorrow Series. I will be removing this one also.
Do I own it? No
Verdict: REMOVE
So Much to tell You by John Marsden
Scarred, literally, by her past, Marina has withdrawn into silence. Then, at her new boarding school, she is set the task of writing a diary by her English teacher, and finds a way of expressing her thoughts and feelings and of exploring the traumatic events that have caused her distress. Through Marina's diary we gain an insight into life on her dormitory, and her difficult relationship with her father, who injured her in an angry moment. Eventually, Marina makes tentative friendships and, in a moving denouement, is reconciled with her father.
I've haven't read anything by John Marsden but I'll definitely try them because I've heard amazing things about them!
Do I own it? No
Verdict: KEEP
Priority Level (1-10, 10 meaning Top Priority)? 2
Letters from the Inside by John Marsden
Mandy wants a pen-pal. Tracey answers the ad. The two girls write to each other about their families, their lives, their ambitions and their fears. But there are dark secrets surrounding Mandy and Tracey – secrets they can hardly bear to confront, let alone share.
Really this synopsis doesn't tell me much. The synopsis of this book doesn't really interest me. 
Do I own it? No
Verdict: REMOVE
Checkers by John Marden
Speaking from a mental hospital, a teenage girl recounts the tremendous media pressure preceding the breaking scandal of her father's unethical business dealings. "This affecting account of a family under siege by the media is both an engaging read and a strong psychological exploration".–"Booklist".
Maybe someday, right now it sounds a little boring to me.
Do I own it? No
Verdict: REMOVE
A Game of Thrones by George R.R. Martin
Long ago, in a time forgotten, a preternatural event threw the seasons out of balance. In a land where summers can last decades and winters a lifetime, trouble is brewing. The cold is returning, and in the frozen wastes to the north of Winterfell, sinister forces are massing beyond the kingdom's protective Wall. To the south, the king's powers are failing—his most trusted adviser dead under mysterious circumstances and his enemies emerging from the shadows of the throne. At the center of the conflict lie the Starks of Winterfell, a family as harsh and unyielding as the frozen land they were born to. Now Lord Eddard Stark is reluctantly summoned to serve as the king's new Hand, an appointment that threatens to sunder not only his family but the kingdom itself.

Sweeping from a harsh land of cold to a summertime kingdom of epicurean plenty, A Game of Thrones tells a tale of lords and ladies, soldiers and sorcerers, assassins and bastards, who come together in a time of grim omens. Here an enigmatic band of warriors bear swords of no human metal; a tribe of fierce wildlings carry men off into madness; a cruel young dragon prince barters his sister to win back his throne; a child is lost in the twilight between life and death; and a determined woman undertakes a treacherous journey to protect all she holds dear. Amid plots and counter-plots, tragedy and betrayal, victory and terror, allies and enemies, the fate of the Starks hangs perilously in the balance, as each side endeavors to win that deadliest of conflicts: the game of thrones.

Unparalleled in scope and execution, A Game of Thrones is one of those rare reading experiences that catch you up from the opening pages, won't let you go until the end, and leave you yearning for more.
This sounds good but not good enough to make me want to read it over the other books I want to read, so I'm going to remove this one for now. I might read this one day or listen to the Audiobook.
Do I own it? No
Verdict: REMOVE
All Our Pretty Songs by Sarah McCarry
This is a story about love, but not the kind of love you think.  You'll see…

In the lush and magical Pacific Northwest live two best friends who grew up like sisters: charismatic, mercurial, and beautiful Aurora, and the devoted, watchful narrator.  Each of them is incomplete without the other. But their unbreakable bond is challenged when a mysterious and gifted musician named Jack comes between them.

His music is like nothing I have ever heard. It is like the ocean surging, the wind that blows across the open water, the far call of gulls.

Suddenly, each girl must decide what matters most: friendship, or love. What both girls don't know is that the stakes are even higher than either of them could have imagined. They're not the only ones who have noticed Jack's gift; his music has awakened an ancient evil—and a world both above and below which may not be mythical at all.  We have paved over the ancient world but that does not mean we have erased it.
The real and the mystical; the romantic and the heartbreaking all begin to swirl together in All Our Pretty Songs, Sarah McCarry's brilliant debut, carrying the two on journey that is both enthralling and terrifying.

And it's up to the narrator to protect the people she loves—if she can.
It looks really interesting. It doesn't have very good reviews, but I'd still like to give it a go.
Do I own it? No
Verdict: KEEP
Priority Level (1-10, 10 meaning Top Priority)? 4
Dirty Wings by Sarah McCarry
A gorgeous retelling of the Persephone myth, Sarah McCarry brings us the story of Cass and Maia–the mothers from All Our Pretty Songs–and how their fates became intertwined.

Maia is a teenage piano prodigy and dutiful daughter, imprisoned in the oppressive silence of her adoptive parents' house like a princess in an ivory tower. Cass is a street rat, witch, and runaway, scraping by with her wits and her knack for a five-fingered discount. When a chance encounter brings the two girls together, an unlikely friendship blossoms that will soon change the course of both their lives. Cass springs Maia from the jail of the only world she's ever known, and Maia's only too happy to make a break for it. But Cass didn't reckon on Jason, the hypnotic blue-eyed rocker who'd capture Maia's heart as soon as Cass set her free–and Cass isn't the only one who's noticed Maia's extraordinary gifts. Is Cass strong enough to battle the ancient evil she's unwittingly awakened–or has she walked into a trap that will destroy everything she cares about? In this time, like in any time, love is a dangerous game.
I should learn not to add sequels before reading the first in a series. This is exactly why my TBR is such a mess.
Do I own it? No
Verdict: REMOVE
The Ages of Miracles by Karen Thompson Walker
On an ordinary Saturday in a California suburb, Julia awakes to discover that something has happened to the rotation of the earth. The days and nights are growing longer and longer; gravity is affected; the birds, the tides, human behavior, and cosmic rhythms are thrown into disarray. In a world that seems filled with danger and loss, Julia also must face surprising developments in herself, and in her personal world—divisions widening between her parents, strange behavior by her friends, the pain and vulnerability of first love, a growing sense of isolation, and a surprising, rebellious new strength. With crystalline prose and the indelible magic of a born storyteller, Karen Thompson Walker gives us a breathtaking portrait of people finding ways to go on in an ever-evolving world.
I WILL read this one day. But could I see myself reading it this next year or anytime soon? No.
Do I own it? No
Verdict: REMOVE
Forbidden Magic  by Cheyenne McCray
Cheyenne McCray's paranormal romances seduce with an award-winning combination of heat and fantasy. Now, she weaves the first tale in an enthralling new series sizzling with dark magic and dangerous desires. Prepare to be spellbound by Forbidden Magic…

D'Anu witch Silver Ashcroft knows she walks a perilous line by practicing gray magic. But it's the only way to protect herself from the evil that surrounds her. After the horrors she has witnessed, Silver thinks she is ready for anything…until the most intensely arousing being she has ever encountered swiftly–and sensuously–proves her wrong…

Hawk is a Tuatha D'Danann warrior–powerful beings descended from the Fae. And for him duty has always come before pleasure. Then, clad only in moonlight, Silver Ashcroft welcomes him to her city of San Francisco and makes his blood sing with a passion beyond compare. She is the embodiment of fantasies he never knew he had, but the terrifying reality of his mission lurks in every shadow…

Only the strongest will survive the upcoming battle, and the forces of darkness are more powerful than ever. Now, warrior and witch must trust in their hearts above all else–for to claim victory, they first must claim each other…
Why is this even on my list? It doesn't sound like something I'd ever want to read.
Do I own it? No
Verdict: REMOVE
Demons Not Included by Cheyenne McCray
Meet Nyx. This half-human, half–Drow private eye investigates paranormal crimes by day and is an elite Tracker of demons by night. She prefers working solo—and playing rough. So when a terrifying force starts murdering innocent humans and paranorms, and leaving strange demonic symbols burned into their buildings, it's a case Nyx takes very personally…

Meanwhile, Nyx's fellow Trackers are being killed one by one—and a sexy new Tracker named Torin is shadowing her every move. Torin has powers Nyx can't read, and sometimes she wonders whose side he's on. Nyx's instincts tell her something's brewing in the city's meanest supernatural streets, and that it's ready to unleash hell on Earth. Who can she trust? Now it's five minutes to permanent midnight…and Nyx's last chance means risking everything—even her own life.
I don't know why this is on my TBR, I don't think this is my type of book.
Do I own it? No
Verdict: REMOVE
Pushing the Limits by Katie McGarry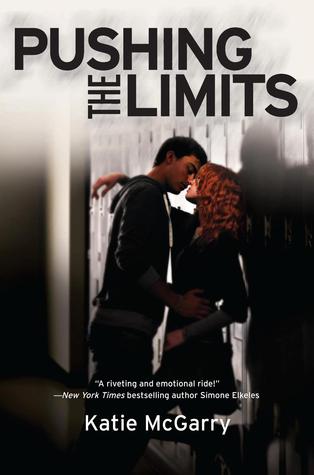 "I won't tell anyone, Echo. I promise." Noah tucked a curl behind my ear. It had been so long since someone touched me like he did. Why did it have to be Noah Hutchins? His dark brown eyes shifted to my covered arms. "You didn't do that-did you? It was done to you?" No one ever asked that question. They stared. They whispered. They laughed. But they never asked.

So wrong for each other…and yet so right.

No one knows what happened the night Echo Emerson went from popular girl with jock boyfriend to gossiped-about outsider with "freaky" scars on her arms. Even Echo can't remember the whole truth of that horrible night. All she knows is that she wants everything to go back to normal. But when Noah Hutchins, the smoking-hot, girl-using loner in the black leather jacket, explodes into her life with his tough attitude and surprising understanding, Echo's world shifts in ways she could never have imagined. They should have nothing in common. And with the secrets they both keep, being together is pretty much impossible.Yet the crazy attraction between them refuses to go away. And Echo has to ask herself just how far they can push the limits and what she'll risk for the one guy who might teach her how to love again.
I remember putting this on my TBR at a time that I really liked this sort of thing. Now, I'm not really into Romance.
Do I own it? No
Verdict: REMOVE
To The Lighthouse by Virginia Woolf
The serene and maternal Mrs. Ramsay, the tragic yet absurd Mr. Ramsay, and their children and assorted guests are on holiday on the Isle of Skye. From the seemingly trivial postponement of a visit to a nearby lighthouse, Woolf constructs a remarkable, moving examination of the complex tensions and allegiances of family life and the conflict between men and women.

As time winds its way through their lives, the Ramsays face, alone and simultaneously, the greatest of human challenges and its greatest triumph–the human capacity for change.
I need to read this book! I read A Room of One's Own & Flush and I loved Them, So I'm also looking forward to reading this one.
Do I own it? Yes
Verdict: KEEP
Priority Level (1-10, 10 meaning Top Priority)? 10
Frostbite by Richelle Mead
Lissa Dragomir is a Moroi princess: a mortal vampire with a rare gift for harnessing the earth's magic. She must be protected at all times from Strigoi; the fiercest vampires – the ones who never die. The powerful blend of human and vampire blood that flows through Rose Hathaway, Lissa's best friend, makes her a dhampir. Rose is dedicated to a dangerous life of protecting Lissa from the Strigoi, who are hell-bent on making Lissa one of them.

Rose has serious guy trouble. Her gorgeous tutor, Dimitri, has his eye on someone else, her friend Mason has a huge crush on her, and she keeps getting stuck in her best friend Lissa's head while she's making out with her boyfriend, Christian.

Then a nearby Strigoi attack puts St. Vladimir's on high alert, and the Academy whisks its students away on a mandatory holiday ski trip. But the glittering winter landscape and posh Idaho resort only provide the illusion of safety. When three students run away to strike back against the deadly Strigoi, Rose must join forces with Christian to rescue them. Only this time, Rose – and her heart – are in more danger than she ever could have imagined
I don't have to read the synopsis to know that I will read this book one day! I loved the first book in this series, so I will probably pick this book up one day.
Do I own it? No
Verdict: KEEP
Priority Level (1-10, 10 meaning Top Priority)? 5
Between the Devil & the Deep Blue Sea by April Genevieve Tucholke
You stop fearing the devil when you're holding his hand…

Nothing much exciting rolls through Violet White's sleepy, seaside town… until River West comes along. River rents the guest house behind Violet's crumbling estate, and as eerie, grim things start to happen, Violet begins to wonder about the boy living in her backyard.

Is River just a crooked-smiling liar with pretty eyes and a mysterious past? Or could he be something more?

Violet's grandmother always warned her about the Devil, but she never said he could be a dark-haired boy who takes naps in the sun, who likes coffee, who kisses you in a cemetery… who makes you want to kiss back.

Violet's already so knee-deep in love, she can't see straight. And that's just how River likes it.

Blending faded decadence and the thrilling dread of gothic horror, April Genevieve Tucholke weaves a dreamy, twisting contemporary romance, as gorgeously told as it is terrifying—a debut to watch.
Every time I think about removing this book from my TBR, I read the synopsis, reminding me why I want to read it and makes me unable to let it go!
Do I own it? No
Verdict: KEEP
Priority Level (1-10, 10 meaning Top Priority)? 6
The Edge of Never by J.A. Redmerski
Twenty-year-old Camryn Bennett had always been one to think out-of-the-box, who knew she wanted something more in life than following the same repetitive patterns and growing old with the same repetitive life story. And she thought that her life was going in the right direction until everything fell apart.

Determined not to dwell on the negative and push forward, Camryn is set to move in with her best friend and plans to start a new job. But after an unexpected night at the hottest club in downtown North Carolina, she makes the ultimate decision to leave the only life she's ever known, far behind.

With a purse, a cell phone and a small bag with a few necessities, Camryn, with absolutely no direction or purpose boards a Greyhound bus alone and sets out to find herself. What she finds is a guy named Andrew Parrish, someone not so very different from her and who harbors his own dark secrets. But Camryn swore never to let down her walls again. And she vowed never to fall in love.

But with Andrew, Camryn finds herself doing a lot of things she never thought she'd do. He shows her what it's really like to live out-of-the-box and to give in to her deepest, darkest desires. On their sporadic road-trip he becomes the center of her exciting and daring new life, pulling love and lust and emotion out of her in ways she never imagined possible. But will Andrew's dark secret push them inseparably together, or tear them completely apart?

Due to sexual content and language, this book is recommended for 17+ – Adult Contemporary Women's – New Adult Fiction
I remember when I first saw this and really wanted to read it. But now, I'm not as interested in it as I was before…
Do I own it? No
Verdict: REMOVE
A Great & Terrible Beauty by Libba Bray
A Victorian boarding school story, a Gothic mansion mystery, a gossipy romp about a clique of girlfriends, and a dark other-worldly fantasy—jumble them all together and you have this complicated and unusual first novel.

Sixteen-year-old Gemma has had an unconventional upbringing in India, until the day she foresees her mother's death in a black, swirling vision that turns out to be true. Sent back to England, she is enrolled at Spence, a girls' academy with a mysterious burned-out East Wing. There Gemma is snubbed by powerful Felicity, beautiful Pippa, and even her own dumpy roommate Ann, until she blackmails herself and Ann into the treacherous clique. Gemma is distressed to find that she has been followed from India by Kartik, a beautiful young man who warns her to fight off the visions. Nevertheless, they continue, and one night she is led by a child-spirit to find a diary that reveals the secrets of a mystical Order. The clique soon finds a way to accompany Gemma to the other-world realms of her visions "for a bit of fun" and to taste the power they will never have as Victorian wives, but they discover that the delights of the realms are overwhelmed by a menace they cannot control. Gemma is left with the knowledge that her role as the link between worlds leaves her with a mission to seek out the "others" and rebuild the Order.
I'm really excited to read this one. I've heard a lot about this one. I've heard a lot of people rave about this.
Do I own it? No
Verdict: KEEP
Priority Level (1-10, 10 meaning Top Priority)? 7
Time Between Us by Tamara Ireland Stone
Anna and Bennett were never supposed to meet: she lives in 1995 Chicago and he lives in 2012 San Francisco. But Bennett has the unique ability to travel through time and space, which brings him into Anna's life, and with him a new world of adventure and possibility.

As their relationship deepens, the two face the reality that time may knock Bennett back to where he belongs, even as a devastating crisis throws everything they believe into question. Against a ticking clock, Anna and Bennett are forced to ask themselves how far they can push the bounds of fate, what consequences they can bear in order to stay together, and whether their love can stand the test of time.

Fresh, exciting, and deeply romantic, Time Between Us is a stunning, spellbinding debut from an extraordinary new voice in YA fiction.
Doesn't really sound like something I'd read to be honest.
Do I own it? No
Verdict: REMOVE
My Soul to Take by Rachel Vincent
She doesn't see dead people. She senses when someone near her is about to die. And when that happens, a force beyond her control compels her to scream bloody murder. Literally.

Kaylee just wants to enjoy having caught the attention of the hottest guy in school. But a normal date is hard to come by when Nash seems to know more about her need to scream than she does. And when classmates start dropping dead for no apparent reason, only Kaylee knows who'll be next.
This is one that I am going to keep. I have been wanting to read this for a long time and will definitely be getting to it eventually. I love the premise of this.
Do I own it? No
Verdict: KEEP
Priority Level (1-10, 10 meaning Top Priority)? 6
MILA 2.0 by Debra Driza
Mila was never meant to learn the truth about her identity. She was a girl living with her mother in a small Minnesota town. She was supposed to forget her past—that she was built in a secret computer science lab and programmed to do things real people would never do.

Now she has no choice but to run—from the dangerous operatives who want her terminated because she knows too much and from a mysterious group that wants to capture her alive and unlock her advanced technology. However, what Mila's becoming is beyond anyone's imagination, including her own, and it just might save her life.
This is a series that a lot of people love! So I definitely want to read this series! And that book cover is just gorgeous!
Do I own it? No
Verdict: KEEP
Priority Level (1-10, 10 meaning Top Priority)? 3
The Raft by S.A. Bodeen
Robie is an experienced traveler. She's taken the flight from Honolulu to the Midway Atoll, a group of Pacific islands where her parents live, many times. When she has to get to Midway in a hurry after a visit with her aunt in Hawaii, she gets on the next cargo flight at the last minute. She knows the pilot, but on this flight, there's a new co-pilot named Max. All systems are go until a storm hits during the flight. The only passenger, Robie doesn't panic until the engine suddenly cuts out and Max shouts at her to put on a life jacket. They are over miles of Pacific Ocean. She sees Max struggle with a raft.

And then . . . she's in the water. Fighting for her life. Max pulls her onto the raft, and that's when the real terror begins. They have no water. Their only food is a bag of Skittles. There are sharks. There is an island. But there's no sign of help on the way.
This description of this one sounds interesting, so I do want to read this one.
Do I own it? No
Verdict: KEEP
Priority Level (1-10, 10 meaning Top Priority)? 5
Shadow & Bone by Leigh Bardugo
Surrounded by enemies, the once-great nation of Ravka has been torn in two by the Shadow Fold, a swath of near impenetrable darkness crawling with monsters who feast on human flesh. Now its fate may rest on the shoulders of one lonely refugee.

Alina Starkov has never been good at anything. But when her regiment is attacked on the Fold and her best friend is brutally injured, Alina reveals a dormant power that saves his life—a power that could be the key to setting her war-ravaged country free. Wrenched from everything she knows, Alina is whisked away to the royal court to be trained as a member of the Grisha, the magical elite led by the mysterious Darkling.

Yet nothing in this lavish world is what it seems. With darkness looming and an entire kingdom depending on her untamed power, Alina will have to confront the secrets of the Grisha . . . and the secrets of her heart.

Shadow and Bone is the first installment in Leigh Bardugo's Grisha Trilogy.
This book has been on my TBR for ages. I recently purchased a copy of it and I'm hoping to read it sometime soon. So, it definitely stays! I've heard so many amazing things about this series.
Do I own it? YES
Verdict: KEEP
Priority Level (1-10, 10 meaning Top Priority)? 9
Tiger's Curse by Colleen Houck
Passion. Fate. Loyalty.

Would you risk it all to change your destiny?

The last thing Kelsey Hayes thought she'd be doing this summer was trying to break a 300-year-old Indian curse. With a mysterious white tiger named Ren. Halfway around the world. But that's exactly what happened. Face-to-face with dark forces, spellbinding magic, and mystical worlds where nothing is what it seems, Kelsey risks everything to piece together an ancient prophecy that could break the curse forever.

Tiger's Curse is the exciting first volume in an epic fantasy-romance that will leave you breathless and yearning for more.
This book has been on my list forever. I just re-read the synopsis for the book and remembered why I wanted to read it.
Do I own it? No
Verdict: KEEP
Priority Level (1-10, 10 meaning Top Priority)? 5

Starcrossed by Josephine Angelini
Destiny brought them together.
The gods will keep them apart.

When shy, awkward Helen Hamilton meets Lucas Delos for the first time, she thinks two things: the first, that he is the most ridiculously beautiful boy she has seen in her life; the second, that she wants to kill him with her bare hands.
An ancient curse means Lucas and Helen are destined to loathe one another. But sometimes love is stronger than hate, and not even the gods themselves can prevent what will happen next…
I am letting this go! I don't think I'll read this any time soon. I really wanted to read this at one point, but I no longer see myself picking it up.
Do I own it? No
Verdict: REMOVE
I have removed 13\25 books from my TBR this week. If you enjoyed this & would like to see what else is on my Goodreads TBR, stick around for more.
RUNNING TOTAL OF BOOKS REMOVED: 51
Have you read any of these books? If you've read any of these books, I'd love to hear your opinions about them. How do you feel about my choices? Do you think I've Made the right decisions?