The Wishing Spell by Chris Colfer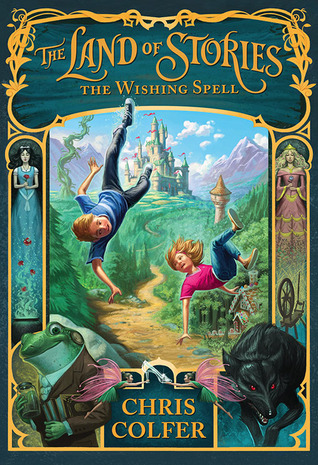 Published by: Little, Brown Books for Young Readers
Publication Date: July 12th, 2012
Series: The Land of Stories, #1
Genres: Middle Grade, Fantasy, Adventure
Format: Hardcover
Pages: 438
Rating: 

Date Read: January 10th, 2014
Links: Goodreads | Book Depository | Author's Website | Books 2 | Book 3
Alex and Conner Bailey's world is about to change, in this fast-paced adventure that uniquely combines our modern day world with the enchanting realm of classic fairytales.

The Land of Stories tells the tale of twins Alex and Conner. Through the mysterious powers of a cherished book of stories, they leave their world behind and find themselves in a foreign land full of wonder and magic where they come face-to-face with the fairy tale characters they grew up reading about.

But after a series of encounters with witches, wolves, goblins, and trolls alike, getting back home is going to be harder than they thought.
First off, this book is gorgeous. I loved the map that was before the title page and the Illustrations. The Land of Stories: The Wishing Spell' has a lot to offer: an enthralling adventure, relatable heroes, a scavenger hunt like never before seen, lots of encounters with our favourite fairy-tale characters and, most of all, the type of storyline that offers something new with every new chapter.
For Alex & Connor's twelfth birthday the twins receive a book from their Grandmother that has been in the family for a long time – a collection of fairy tales called "The Land of Stories". But as Conner and Alex soon find out – this is no ordinary book!
When Alex accidentally falls into the book and Conner jumps after her, the twins find themselves in a world that is at once familiar and foreign – familiar, because they've grown up reading stories about the kingdoms of this fairy-tale world; and foreign because suddenly they are faced with the aftermath of "Happily Ever After": Goldilocks is a wanted fugitive; the big bad wolf may be dead but his pack is very much alive; and the evil queen that almost succeeded in murdering Snow White has escaped from her prison.
Conner and Alex were both likable and endearing lead characters. Alex is an overachiever, the teacher's pet and the logical one of the two, Whereas Conner is the comedian, full of sarcasm, and the more impulsive twin. But the twins are really just two out of a very large cast of characters, many of whom are of course already known to us from various fairy-tales.
One thing I loved even more than the characters in this novel was the different worlds that the author created. I'm a big fan of epic world building and Colfer penned the settings in a way that made it easy to see in my mind.
The Land of Stories was a delightful tale for anyone who enjoys Fairy-tale. Even when our favourite tales ended, they were still continuing in this world. Chris Colfer has a very vivid and descriptive style of writing that I personally liked very much. Whether he was describing castles, quaint villages or the dungeons of the Troll and Goblin Territory – it all came to life right before my eyes, and I could see every scene like a movie in my mind.
Reading this book reminded me of how much I loved escaping into the world of books as a kid! Back then I would forget everything around me and just dive into different worlds to have amazing adventures. I could travel the world, discover hidden treasures, or solve huge mysteries.
This is a wonderfully imaginative and fast-paced adventure that is very entertaining and definitely fun to read. It is a book that I thoroughly enjoyed. The story has a good flow to it, I was never bored for even a moment. Some of the scenes could have been elaborated a bit or fleshed out more, and there were a few moments where I felt like the twins got away a little bit too easily, but those are just the little bumps that almost any novel by a first-time author has.
This book definitely proves that Chris Colfer is indeed a talented writer with a wonderful imagination whose storytelling ability will most likely only get better with age.