TBR Jar Wednesday is a new weekly meme created here at Drink Coffee and Read Books. You can participate in this if you have a TBR jar or even if you don't. Each month you will randomly choose a category from your TBR, or if you don't have a TBR Jar, you can use my Category for that month and make a post with three books that fit that category from your TBR, it doesn't have to be a book you own. It could be a book that you would like to purchase.
I Pick 3 books from my TBR Pile that fit the Category and have you all pick which one I should read next. This is a monthly MEME and you are more than welcome to join me. Just create a blog post with your three books and link the post below. You can find the Full Rules HERE.
I thought we can keep up with each list with the hashtag #TBRJW so add that to the end of your post and Social media.

My Category for June is: Read a book that has faeries.
So This Month I picked:
The Iron Daughter (The Iron Fey, #2)
by Julie Kagawa
Genre: Young Adult, Fantasy
Half Summer faery princess, half human, Meghan has never fit in anywhere. Deserted by the Winter prince she thought loved her, she is prisoner to the Winter faery queen. As war looms between Summer and Winter, Meghan knows that the real danger comes from the Iron fey—ironbound faeries that only she and her absent prince have seen. But no one believes her.
Worse, Meghan's own fey powers have been cut off. She's stuck in Faery with only her wits for help. Trusting anyone would be foolish. Trusting a seeming traitor could be deadly. But even as she grows a backbone of iron, Meghan can't help but hear the whispers of longing in her all-too-human heart.
T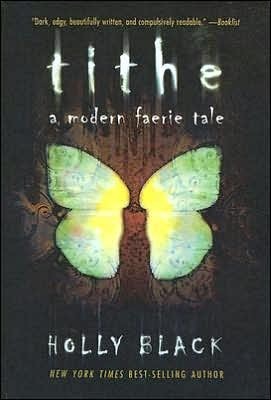 ithe (Modern Faery Tale, #1)
by Holly Black
Genre: Young Adult, Fantasy
Welcome to the realm of very scary faeries!
Sixteen-year-old Kaye is a modern nomad. Fierce and independent, she travels from city to city with her mother's rock band until an ominous attack forces Kaye back to her childhood home. There, amid the industrial, blue-collar New Jersey backdrop, Kaye soon finds herself an unwilling pawn in an ancient power struggle between two rival faerie kingdoms – a struggle that could very well mean her death.
An Author's Odyssey (The Land of Stories, #5)
by Chris Colfer
Genre: Middle Grade Fantasy
In the highly anticipated continuation of the Land of Stories series, Conner learns that the only place to fight the Masked Man's literary army is inside his own short stories!
When the twins and their friends enter worlds crafted from Conner's imagination, finding allies no one else could have ever dreamed of, the race begins to put an end to the Masked Man's reign of terror. Can the twins finally restore peace in the fairy tale world?
Let's Vote…
Pick one of the three books in the poll to help me decide what book I will read this month.
Link Up
Post your link here and visit the other blogs to help them vote on their next read. Since I can't actually add a linky, Please link up in the comments!
Thank you so much for stopping by to vote. Check back next week to see which one I will be reading. Have a great day and Happy Reading!