This meme is hosted by Lia @ LostInAStory. The aim is to declutter your Goodreads To Be Read shelf. You sort the books on this list on date added (ascending) and do a weekly post discussing a few of them. Read the synopsis and decide whether or not you want to keep them.

Anyway, it works like this: Go to your goodreads to-read shelf, Order on ascending date added, Take the first 5 (or 10 if you're feeling adventurous) books, Read the synopses of the books, Decide: keep it or should it go?
My Name Is Rapunzel by KC Hilton
My tale has been told again and again, and I've heard each one. Except for my hair, I barely recognize the pitiful renditions. Muddled versions, crafted to entertain laughing children…but the children wouldn't have laughed if they'd known the real story. It wasn't their fault. They didn't know the truth. Nobody did.

My name is Rapunzel. I will tell you my story. I will tell you the truth.
This book hasn't gotten very good reviews but if a book sounds interesting I still like to read it to find out for myself, so I think I will probably read this. I'm still interested in it, the premise sounds quite intriguing. Also I love fairy tale retellings, but I've never actually read a retelling on Rapunzel though.
Do I own it? No
Verdict: KEEP
Priority Level (1-10, 10 meaning Top Priority)? 5
My Blood Approves by Amanda Hocking
Teenager Alice Bonham's life feels crazy after she meets Jack. With his fondness for pink Chuck Taylors and New Wave, he's unlike anyone she knows. Then she meets his brother, Peter. Even though he can't stand the sight of her, she's drawn to him. Falling for two guys isn't even the worst of her problems. Jack and Peter are vampires, and Alice finds herself caught between love and her own blood 

I don't know about this one, I just don't think this is something that would interest me anymore. So I'm probably not going to give this book priority over other books, so I might as well take it off my TBR pile instead of leaving it there forever.
Do I own it? No
Verdict: REMOVE
Hollowland by Amanda Hocking
Hollowland – the first book in the young adult dystopian series The Hollows…

"This is the way the world ends – not with a bang or a whimper, but with zombies breaking down the back door."

Nineteen-year-old Remy King is on a mission to get across the wasteland left of America, and nothing will stand in her way – not violent marauders, a spoiled rock star, or an army of flesh-eating zombies.
I'm not sure I'd be into this book based on the plot summary… this is a zombie apocalypse book. I haven't read any zombie books but I don't think I'd be interested in reading about zombies.
Do I own it? No
Verdict: REMOVE
Wake by Amanda Hocking
Fall under the spell of Wake—the first book in an achingly beautiful new series by celebrated author Amanda Hocking—and lose yourself to the Watersong.

Gorgeous. Fearless. Dangerous. They're the kind of girls you envy; the kind of girls you want to hate. Strangers in town for the summer, Penn, Lexi and Thea have caught everyone's attention—but it's Gemma who's attracted theirs. She's the one they've chosen to be part of their group.

Gemma seems to have it all—she's carefree, pretty, and falling in love with Alex, the boy next door. He's always been just a friend, but this summer they've taken their relationship to the next level, and now there's no going back. Then one night, Gemma's ordinary life changes forever. She's taking a late night swim under the stars when she finds Penn, Lexi and Thea partying on the cove. They invite her to join them, and the next morning she wakes up on the beach feeling groggy and sick, knowing something is different.

Suddenly Gemma is stronger, faster, and more beautiful than ever. But her new powers come with a terrifying price. And as she uncovers the truth, she's is forced to choose between staying with those she loves—or entering a new world brimming with dark hungers and unimaginable secrets.
I still haven't read anything by Amanda Hocking and I really need to get to that! This book sounds interesting.
Do I own it? No
Verdict: KEEP
Priority Level (1-10, 10 meaning Top Priority)? 2
Virtue by Amanda Hocking
In a world filled with magic, love might be the final answer in the eternal battle between good and evil. When Lux is tasked with retrieving the virtuous Lily for his master, his entire world is put in danger. Lux must battle goblins, demon dogs, and sea dragons to rescue the one he loves, and that's only the beginning…
I don't really know what this is really about and I haven't heard much about this either. I haven't read any of her books but There has been A LOT of people that was disappointed with this book compared to her other books. Because of that I don't really want to read this. I might read her other book instead. I don't really know what this is about by the synopsis because its very small and doesn't really tell us anything, so I can't say that I want to read it because of the synopsis.
Do I own it? No
Verdict: REMOVE
Wicked: Witch & Curse by Nancy Holder & Debbie Viguie
Complete text of Witch and Curse in a single volume.

Holly Cathers's world shatters when her parents are killed in a terrible accident. Wrenched from her home in San Francisco, she is sent to Seattle to live with her relatives, Aunt Marie-Claire and her twin cousins, Amanda and Nicole.

In her new home, Holly's sorrow and grief soon give way to bewilderment at the strange incidents going on around her. Such as how any wish she whispers to her cat seems to come true. Or the way a friend is injured after a freak attack from a vicious falcon. And there's the undeniable, magnetic attraction to a boy Holly barely knows.

Holly, Amanda, and Nicole are about to be launced into a dark legacy of witches, secrets, and alliances, where ancient magics yield dangerous results. The girls will assume their roles in an intergenerational feud beyond their wildest imaginations…and in doing so, will attempt to fulfill their shared destiny.
I really do want to read this one I just never got around to it… I'll still keep this on my TBR pile, though.
Do I own it? No
Verdict: KEEP
Priority Level (1-10, 10 meaning Top Priority)? 6
On Fire: A Teen Wolf Novel
Based on the hit MTV series Teen Wolf—a teenage boy's life changes forever after he's bitten by a werewolf.Scott was just a regular guy until one bite changed his life. Now he struggles to understand who he is and what he might become. Is he more wolf than human—or is it the other way around? Whichever it is, it's not going to be easy. Scott tries to control his urges, but mostly he's scared that it's his urges that could end up controlling him.     On Fire is the story of what happens when you to walk the line between what you want and what you can't help from wanting. Will the bite end up being a gift? Or will it be a curse? And what will it all mean for Scott's relationship with Allison—the girl he can't get enough of? Only time will tell if he should embrace his newfound powers, or if he should fear them.
I love Teen Wolf. Teen Wolf is one of my favourite TV shows, actually. So, despite the bad reviews, I might still pick this up. I'll probably borrow this from the library, so If I don't enjoy it I can just take it back to the library and I won't be stuck with it on my shelves!
Do I own it? No
Verdict: KEEP
Priority Level (1-10, 10 meaning Top Priority)? 8
The Carrie Diaries by Candace Bushnell
Before Carrie Bradshaw hit the big time in the City, she was a regular girl growing up in the suburbs of Connecticut. How did she turn into one of the most-read social observers of our generation?

The Carrie Diaries opens up in Carrie's senior year of high school. She and her best friends — Walt, Lali, Maggie, and the Mouse — are inseparable, amid the sea of Jens, Jocks and Jets. And then Sebastian Kydd comes into the picture. Sebastian is a bad boy-older, intriguing, and unpredictable. Carrie falls into the relationship that she was always supposed to have in high school-until a friend's betrayal makes her question everything. With her high school days coming to a close, Carrie will realize it's finally time to go after everything she ever wanted.

Rabid fans of Sex and the City will love seeing Carrie Bradshaw evolve from a regular girl into a sharp, insightful writer. They'll learn about her family background — how she found her writing voice, and the indelible impression her early friendships and relationships left on her. We'll see what brings Carrie to her beloved New York City, where the next Carrie Diaries book will take place.
The Carrie Diaries is the prequel series to Sex & the City, and while I've never watched Sex and the City, I have watched The Carrie Diaries. It basically follows Carrie Bradshaw, a school senior who's dealing with typical teenage drama – boyfriends, school prom, dysfunctional families and the looming, uncertain future.
Do I own it? No
Verdict: KEEP
Priority Level (1-10, 10 meaning Top Priority)? 8
Splintered by A. G. Howard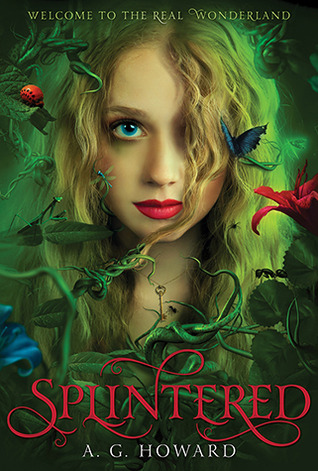 This stunning debut captures the grotesque madness of a mystical under-land, as well as a girl's pangs of first love and independence.

Alyssa Gardner hears the whispers of bugs and flowers—precisely the affliction that landed her mother in a mental hospital years before. This family curse stretches back to her ancestor Alice Liddell, the real-life inspiration for Lewis Carroll's Alice's Adventures in Wonderland. Alyssa might be crazy, but she manages to keep it together. For now.

When her mother's mental health takes a turn for the worse, Alyssa learns that what she thought was fiction is based in terrifying reality. The real Wonderland is a place far darker and more twisted than Lewis Carroll ever let on. There, Alyssa must pass a series of tests, including draining an ocean of Alice's tears, waking the slumbering tea party, and subduing a vicious bandersnatch, to fix Alice's mistakes and save her family. She must also decide whom to trust: Jeb, her gorgeous best friend and secret crush, or the sexy but suspicious Morpheus, her guide through Wonderland, who may have dark motives of his own.
This is a retelling of Alice's Adventures in Wonderland. I'm conflicted about this one. I love Alice's Adventures in wonderland and this book hasn't gotten very good reviews. I do still want to read this though.
Do I own it? No
Verdict: KEEP
Priority Level (1-10, 10 meaning Top Priority)? 4
Born at Midnight by C.C. Hunter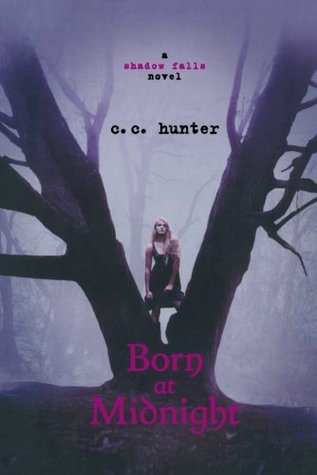 Don't miss this spectacular new series that will steal your heart and haunt your dreams, Welcome to Shadow Falls camp, nestled deep in the woods of a town called Fallen…

One night Kylie Galen finds herself at the wrong party, with the wrong people, and it changes her life forever. Her mother ships her off to Shadow Falls—a camp for troubled teens, and within hours of arriving, it becomes painfully clear that her fellow campers aren't just "troubled." Here at Shadow Falls, vampires, werewolves, shapeshifters, witches and fairies train side by side—learning to harness their powers, control their magic and live in the normal world.

Kylie's never felt normal, but surely she doesn't belong here with a bunch of paranormal freaks either. Or does she? They insist Kylie is one of them, and that she was brought here for a reason. As if life wasn't complicated enough, enter Derek and Lucas. Derek's a half-fae who's determined to be her boyfriend, and Lucas is a smokin' hot werewolf with whom Kylie shares a secret past. Both Derek and Lucas couldn't be more different, but they both have a powerful hold on her heart.

Even though Kylie feels deeply uncertain about everything, one thing is becoming painfully clear—Shadow Falls is exactly where she belongs…
This doesn't really sound like something I would like. This doesn't sound appealing to me. Not really sure why it was ever added to my TBR in the first place.
Do I own it? No
Verdict: REMOVE
I have removed 4\10 books from my TBR this week. This is time-consuming, but it feels so nice to cut down my TBR List. If you enjoyed this & would like to see what else is on my Goodreads TBR, stick around for more.
RUNNING TOTAL OF BOOKS REMOVED: 25
Have you read any of these books? If you've read any of these books, I'd love to hear your opinions about them. How do you feel about my choices? Do you think I've Made the right decisions?