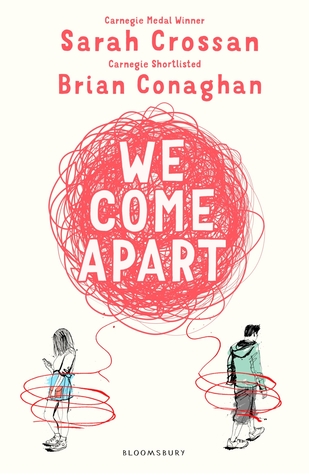 We Come Apart by Sarah Crossan & Brian Conaghan
Published by: Bloomsbury
Publication Date: February 9th, 2017
Genres: Young Adult, Contemporary, Poetry
Format: Paperback
Pages: 320
Rating: 

Date Read: April 26th, 2017
Links: Goodreads | Booktopia | Book Depository | Amazon
From two acclaimed authors comes an emotional story told in verse about friendship, love, and overcoming unbeatable odds.

Authors Brian Conaghan and Sarah Crossan have joined forces to tell the story of Nicu and Jess, two troubled teens whose paths cross in the unlikeliest of places.

Nicu has emigrated from Romania and is struggling to find his place in his new home. Meanwhile, Jess's home life is overshadowed by violence. When Nicu and Jess meet, what starts out as friendship grows into romance as the two bond over their painful pasts and hopeful futures. But will they be able to save each other, let alone themselves?

For fans of Una LaMarche's Like No Other, this illuminating story told in dual points of view through vibrant verse will stay with readers long after they've turned the last page.
I received a copy of We Come Apart from the Publisher for review Consideration. This in no way influences my opinion of this book.
We Come Apart is about two young people trying to find their way through a turbulent life in a poor district in London where violence and crime is a part of their daily lives. Nicu – a Romanian boy awaiting an arranged marriage, and Jess – a British girl with a really violent and ill tempered step-father whose paths cross when taking part in a Reparation scheme after both get caught for theft. Both find comfort in each other and bond over their pain and their friendship turns to romance and they see hope in each other.
This novel is written in verse, which therefore made it a quick read. I didn't enjoy this book as much as I hoped, but it was an okay read. I felt that the characterisation was lacking is places, perhaps due to it being such a short read, so I felt that the characters and the romance were not as fleshed out as they could have been.
The writing was very mediocre. Verse is usually a hit or miss with me. This unfortunately was a miss for me. It just didn't add anything to the book. I did like how it was quick. Verse usually skips all the waffle and jumps right into the story and focuses on what's important so I enjoyed that aspect but on a whole, it was just okay.
The premise of the story had me hooked though, and while parts of it were great, I felt there was something lacking. I just would have like more depth to the characters and more to their story. This was an up and down book for me. I really liked how it was told in verse from dual perspectives.