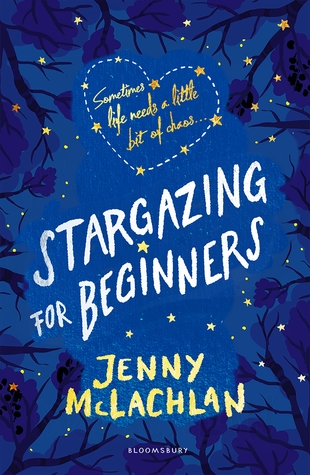 Stargazing for Beginners by Ursula Dubosarsky
Published by: Bloomsbury
Publication Date: April 6th, 2017
Genres: Young Adult, Contemporary
Format: Paperback
Pages: 256
Rating: 

Date Read: March 26th, 2017
Links: Goodreads | Booktopia | Book Depository | Amazon | Authors Website
Science geek Meg is left to look after her little sister for ten days after her free-spirited mum leaves suddenly to follow up yet another of her Big Important Causes. But while Meg may understand how the universe was formed, baby Elsa is a complete mystery to her.

And Mum's disappearance has come at the worst time: Meg is desperate to win a competition to get the chance to visit NASA headquarters, but to do this she has to beat close rival Ed. Can Meg pull off this double life of caring for Elsa and following her own dreams? She'll need a miracle of cosmic proportions …

Fans fell in love with the warmth, wit, romance and fierce friendships in Flirty Dancing, Love Bomb, Sunkissed and Star Struck, and Stargazing for Beginners has all that and galaxies more. This is the best kind of real-life fiction – with big themes and irresistible characters, it goes straight to your heart.
I received a copy of Stargazing for Beginners from Bloomsbury for review Considerations. This in no way influences my opinion of this book.
Meg is a science geek who dreams of being an astronaut and wants desperately to win the competition to visit NASA. Unfortunately Meg also has an incredibly selfish and immature mother. We get to watch Meg look after her younger sister and keep her own interests ticking after her mother hops on a plane and disappears for two weeks.
Who leaves their two daughters home alone for a fortnight, whilst they travel to the other side of the world? However, the event is not portrayed unrealistically by McLachlan and without it Meg wouldn't have done what she does. The characters are generally realistic.
And even though I enjoyed the Uplifting message behind this, it failed to grab me. I struggled with this one, I found that the book wasn't really holding my attention and I struggled to push through. It took me awhile to get through this, I just didn't care that much about the characters.
I will say that the writing in this book is really good and I would definitely be interested in reading more from this author.