This meme is hosted by Lia @ LostInAStory. The aim is to declutter your Goodreads To Be Read shelf. You sort the books on this list on date added (ascending) and do a weekly post discussing a few of them. Read the synopsis and decide whether or not you want to keep them.

Anyway, it works like this: Go to your goodreads to-read shelf, Order on ascending date added, Take the first 5 (or 10 if you're feeling adventurous) books, Read the synopses of the books, Decide: keep it or should it go?
Beautiful Creatures by Kami Garcia
Lena Duchannes is unlike anyone the small Southern town of Gatlin has ever seen, and she's struggling to conceal her power, and a curse that has haunted her family for generations. But even within the overgrown gardens, murky swamps and crumbling graveyards of the forgotten South, a secret cannot stay hidden forever.

Ethan Wate, who has been counting the months until he can escape from Gatlin, is haunted by dreams of a beautiful girl he has never met. When Lena moves into the town's oldest and most infamous plantation, Ethan is inexplicably drawn to her and determined to uncover the connection between them.

In a town with no surprises, one secret could change everything.
I have seen the movie and I liked it, so it will be read at some point!
Do I own it? No
Verdict: KEEP
Priority Level (1-10, 10 meaning Top Priority)? 4
What the Spell by Brittany Geragotelis
BE CAREFUL WHAT YOU WITCH FOR…

BROOKLYN SPARKS IS INVISIBLE. Because she's not a popular kid or an übernerd, Brooklyn is stuck somewhere in the middle of the high school food chain. But all of that is about to change.

On the eve of her sixteenth birthday, Brooklyn comes of age as a witch. Her strict parents finally unbind her powers and, along with giving herself an instant makeover, Brooklyn discovers her true gift: She was born into a line of magical matchmakers.

After spending so long being overlooked, Brooklyn's getting exactly what she wants, including entrée into the elite crowd and her crush's undivided attention. But there's a price to pay. The use of her powers puts Brooklyn in the same dangerous position as her Salem ancestors – if anyone finds out who she really is and what she can do, her life is over.

Now that she has everything she's ever wanted, Brooklyn has everything to lose.
I'm on the fence with this one. It looks like a fun story but it hasn't got very good reviews.
Do I own it? No
Verdict: REMOVE
Gone by Michael Grant
Suddenly there were no adults, no answers. What would you do? In the blink of an eye, the world changes. The adults vanish without a trace, and those left must do all they can to survive. But everyone's idea of survival is different. Some look after themselves, some look after others, and some will do anything for power.
This is a book I own, I bought this one ages ago and have never read it. The description of this one sounds interesting, so I do want to read this.
Do I own it? Yes
Verdict: KEEP
Priority Level (1-10, 10 meaning Top Priority)? 7
Evernight by Claudia Gray
Bianca wants to escape.

She's been uprooted from her small hometown and enrolled at Evernight Academy, an eerie Gothic boarding school where the students are somehow too perfect: smart, sleek, and almost predatory. Bianca knows she doesn't fit in.

Then she meets Lucas. He's not the "Evernight type" either, and he likes it that way. Lucas ignores the rules, stands up to the snobs, and warns Bianca to be careful—even when it comes to caring about him.

"I couldn't stand it if they took it out on you," he tells Bianca, "and eventually they would."

But the connection between Bianca and Lucas can't be denied. Bianca will risk anything to be with Lucas, but dark secrets are fated to tear them apart . . . and to make Bianca question everything she's ever believed.
I still haven't read anything by Claudia Gray and I'm very curious about her. There are lots of people who recommend this series so I might give it a chance later on.
Do I own it? No
Verdict: KEEP
Priority Level (1-10, 10 meaning Top Priority)? 3
Sins & Needles by Karina Halle
Ellie Watt is used to starting over. The daughter of a grifting team, Ellie spent her childhood being used as a pawn in her parents' latest scam. Now she's much older, wiser and ready to give her con artist life a rest. But returning to the dry desert town of Palm Valley, California means one more temptation than she bargained for – Camden McQueen.

Once known as the high school weirdo, Camden is bigger and badder than the boy he used to be and a talented tattoo artist with his own thriving business. Ellie's counting on Camden still being in love with her but what she's not counting on is how easily unrequited love can turn into obsession over time. When Camden discovers Ellie's plan to con him, he makes her a deal she doesn't dare refuse, but her freedom comes with a price and it's one that takes both Ellie and Camden down a dangerous road.
I'm not usually interested in these types of books – New Adult Contemporary Romance – but this one sounds interesting and the cover is really beautiful.  
Do I own it? No
Verdict: KEEP
Priority Level (1-10, 10 meaning Top Priority)? 4
Unearthly by Cynthia Hand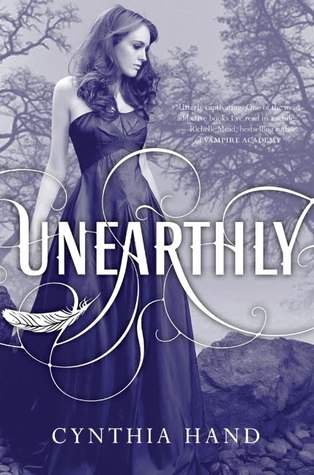 In the beginning, there's a boy standing in the trees…
Clara Gardner has recently learned that she's part angel. Having angel blood run through her veins not only makes her smarter, stronger, and faster than humans (a word, she realizes, that no longer applies to her), but it means she has a purpose, something she was put on this earth to do. Figuring out what that is, though, isn't easy.

Her visions of a raging forest fire and an alluring stranger lead her to a new school in a new town. When she meets Christian, who turns out to be the boy of her dreams (literally), everything seems to fall into place and out of place at the same time. Because there's another guy, Tucker, who appeals to Clara's less angelic side.

As Clara tries to find her way in a world she no longer understands, she encounters unseen dangers and choices she never thought she'd have to make between honesty and deceit, love and duty, good and evil. When the fire from her vision finally ignites, will Clara be ready to face her destiny?

Unearthly is a moving tale of love and fate, and the struggle between following the rules and following your heart.
I added this because I liked the synopsis. However, this has been on my list for ages and I don't own it yet and I don't think I'll get to this anytime soon.
Do I own it? No
Verdict: REMOVE
A Discovery of Witches by Deborah Harkness
A richly inventive novel about a centuries-old vampire, a spellbound witch, and the mysterious manuscript that draws them together.

Deep in the stacks of Oxford's Bodleian Library, young scholar Diana Bishop unwittingly calls up a bewitched alchemical manuscript in the course of her research. Descended from an old and distinguished line of witches, Diana wants nothing to do with sorcery; so after a furtive glance and a few notes, she banishes the book to the stacks. But her discovery sets a fantastical underworld stirring, and a horde of daemons, witches, and vampires soon descends upon the library. Diana has stumbled upon a coveted treasure lost for centuries-and she is the only creature who can break its spell.

Debut novelist Deborah Harkness has crafted a mesmerizing and addictive read, equal parts history and magic, romance and suspense. Diana is a bold heroine who meets her equal in vampire geneticist Matthew Clairmont, and gradually warms up to him as their alliance deepens into an intimacy that violates age-old taboos. This smart, sophisticated story harks back to the novels of Anne Rice, but it is as contemporary and sensual as the Twilight series-with an extra serving of historical realism.
There are some really amazing reviews for this.  I like the name of the book and I love this cover.
Do I own it? No
Verdict: KEEP
Priority Level (1-10, 10 meaning Top Priority)? 6

Sweet Evil by Wendy Higgins
Embrace the Forbidden

What if there were teens whose lives literally depended on being bad influences?

This is the reality for sons and daughters of fallen angels.
Tenderhearted Southern girl Anna Whitt was born with the sixth sense to see and feel emotions of other people. She's aware of a struggle within herself, an inexplicable pull toward danger, but it isn't until she turns sixteen and meets the alluring Kaidan Rowe that she discovers her terrifying heritage and her willpower is put to the test. He's the boy your daddy warned you about. If only someone had warned Anna.

Forced to face her destiny, will Anna embrace her halo or her horns
I read a lot of reviews about this series and a lot of people really love, so I do still want to read it but probably not for a while. There are so many other books that I want to read before this one,  It's not a priority. So for now I wont be reading it. But if you've read this, I'd love to hear your opinion on it and whether you think I should still read this.
Do I own it? No
Verdict: REMOVE
See Me by Wendy Higgins
While most seventeen-year-old American girls would refuse to let their parents marry them off to a stranger, Robyn Mason dreams of the mysterious McKale in Ireland, wondering how he'll look and imagining his cute Irish accent. Prearranged bindings are common for magical families like her own, however when she travels to the whimsical Emerald Isle she discovers there's more to her betrothal and McKale's clan than she was led to believe.

What starts as an obligatory pairing between Robyn and McKale morphs over time into something they both need. But one giant obstacle stands in the way of their budding romance: a seductive and deadly Fae princess accustomed to getting what she wants—and what she wants is McKale as her plaything. Love, desire, and jealousies collide as Robyn's family and McKale's clan must work together to outsmart the powerful Faeries and preserve the only hope left for their people.
Another book by Wendy Higgins. I also don't know when I'll get around to reading this one. I actually don't know if this is a standalone or series, so If you know, please comment below. To be honest, I haven't really been in the mood for series, I don't think I can fully invest in a series right now. I'm just trying to finish some series that I've already started and this one doesn't interest me enough to want to pick it anytime soon. If this is a standalone, I might read it. I've been reading a lot of standalones lately. But for now…
Do I own it? No
Verdict: REMOVE
The Rush by Rachel Higginson
A life not her own—A future already decided.

Every facet of Ivy Pierce's life is meticulously planned out and plotted. Cynical and jaded by sixteen, Ivy's only hope is to escape the legacy she was born into.

She has a plan, a carefully thought out, feasible plan. She just has to play by the rules until everything falls into place. Unfortunately as predictable as her life can be, she never sees Ryder Sutton coming. He tumbles into her life unimpressed and untouched by her and the life she lives. He's an enigma to her. A gorgeous, frustrating, sincere mystery and a complete phenomenon in the ugly world she lives in.

What blooms between them is a fiercely intense attraction that cannot be ignored. Even though they would both be better off without each other—Even if both their lives depend on staying apart.
It sounds unique. I don't remember ever adding this, but after rereading the synopsis, I still want to read this book.
Do I own it? No
Verdict: KEEP
Priority Level (1-10, 10 meaning Top Priority)? 4
I have removed 4\10 books from my TBR this week. It's actually quite a relief that I managed to remove more than four books from my TBR this week! it might not seem like much but it's still a great chunk of books off, so I'm happy with this weeks declutter! If you enjoyed this & would like to see what else is on my Goodreads TBR, stick around for more.
RUNNING TOTAL OF BOOKS REMOVED: 21
Have you read any of these books? If you've read any of these books, I'd love to hear your opinions about them. How do you feel about my choices? Do you think I've Made the right decisions?