This meme is hosted by Lia @ LostInAStory. The aim is to declutter your Goodreads To Be Read shelf. You sort the books on this list on date added (ascending) and do a weekly post discussing a few of them. Read the synopsis and decide whether or not you want to keep them.

Anyway, it works like this: Go to your goodreads to-read shelf, Order on ascending date added, Take the first 5 (or 10 if you're feeling adventurous) books, Read the synopses of the books, Decide: keep it or should it go?
Hidden by Marianna Curley
For as long as Ebony can remember, she's been sheltered. Confined to her home in a secluded valley, home-schooled by her protective parents, and limited to a small circle of close friends. It's as if she's being hidden. But something is changing in Ebony. Something that can't be concealed. She's growing more beautiful by the day, she's freakishly strong, and then there's the fact that she's glowing.

On one fateful night, Ebony meets Jordan and she's intensely drawn to him. It's as if something explodes inside of her–something that can be seen from the heavens. Ebony still doesn't know that she's a stolen angel, but now that the heavens have found her, they want her back.
While this book does sound semi-interesting, I haven't read very good reviews about this. Also, It features Insta-love and that bugs me, it just doesn't seem believable. So I don't think I'll be reading this anytime soon.
Do I Own It? No
Verdict: REMOVE
Night School by C.J. Daugherty
Allie Sheridan's world is falling apart. Her brother's run away from home. Her parents ignore her. And she's just been arrested.

Again.

This time her parents have had enough. They cut her off from her friends and send her away to boarding school, far from her London friends.

But at Cimmeria Academy, Allie is soon caught up in the strange activities of a secret group of elite students.

When she's attacked late one night the incident sets off a chain of increasingly violent events. As the school begins to seem like a very dangerous place, she finds out that nothing at Cimmeria is what it seems to be.

And that she is not who she thought she was.
This is the First book in the Night School series. I always enjoy boarding school books, So I'm intrigued by the concept of this book. It's set in an old and odd Gothic mansion turned into a school called Cimmeria Academy.

Do I own It? No
Verdict: KEEP
Priority Level (1-10, 10 Meaning Top Priority)? 2
The Body Finder by Kimberly Derting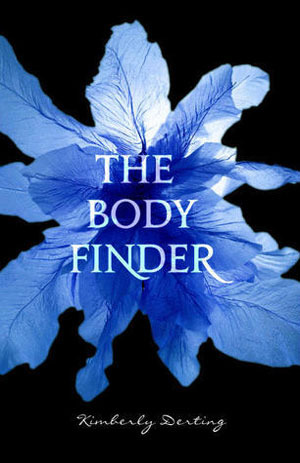 Violet Ambrose is grappling with two major issues: Jay Heaton and her morbid secret ability. While the sixteen-year-old is confused by her new feelings for her best friend since childhood, she is more disturbed by her "power" to sense dead bodies—or at least those that have been murdered. Since she was a little girl, she has felt the echoes that the dead leave behind in the world… and the imprints that attach to their killers.

Violet has never considered her strange talent to be a gift; it mostly just led her to find the dead birds her cat had tired of playing with. But now that a serial killer has begun terrorizing her small town, and the echoes of the local girls he's claimed haunt her daily, she realizes she might be the only person who can stop him.

Despite his fierce protectiveness over her, Jay reluctantly agrees to help Violet on her quest to find the murderer—and Violet is unnerved to find herself hoping that Jay's intentions are much more than friendly. But even as Violet is getting closer and closer to discovering a killer.. she might become his next prey.
This still sounds really cool. I have already bought it and I love the concept of this. Although I don't know when I get around to reading this, I don't really feel in the mood for this at the moment.
Do I own it? Yes
Verdict: KEEP
Priority Level (1-10, 10 Meaning Top Priority)? 2
The Pledge by Kimberly Derting
In the violent country of Ludania, the classes are strictly divided by the language they speak. The smallest transgression, like looking a member of a higher class in the eye while they are speaking their native tongue, results in immediate execution. Seventeen-year-old Charlaina has always been able to understand the languages of all classes, and she's spent her life trying to hide her secret. The only place she can really be free is the drug-fueled underground clubs where people go to shake off the oppressive rules of the world they live in. It's there that she meets a beautiful and mysterious boy named Max who speaks a language she's never heard before . . . and her secret is almost exposed.

Charlie is intensely attracted to Max, even though she can't be sure where his real loyalties lie. As the emergency drills give way to real crisis and the violence escalates, it becomes clear that Charlie is the key to something much bigger: her country's only chance for freedom from the terrible power of a deadly regime.
Not really interested in this series. Might pick it up when I have nothing else to read, but other than that….
Do I own It? No
Verdict: REMOVE
Eden Anfield loves puzzles, so when mysterious new boy Ryan Westland shows up at her school she's hooked. On the face of it, he's a typical American teenager. So why doesn't he recognise pizza? And how come he hasn't heard of Hitler? What puzzles Eden the most, however, is the interest he's taking in her.

As Eden starts to fall in love with Ryan, she begins to unravel his secret. Her breakthrough comes one rainy afternoon when she stumbles across a book in Ryan's bedroom – a biography of her best friend – written over fifty years in the future. Confronting Ryan, she discovers that he is there with one unbelievably important purpose … and she might just have destroyed his only chance of success.
This is the first book in the After Eden Series. I'm quite intrigued by the synopsis of this one. One day I think I might try to pick this one up.
Do I own it? No
Verdict: KEEP
Priority Level (1-10, 10 Meaning Top Priority)? 2
Reason to Breathe by Rebecca Donovan
"No one tried to get involved with me, and I kept to myself. This was the place where everything was supposed to be safe and easy. How could Evan Mathews unravel my constant universe in just one day?"

In the affluent town of Weslyn, Connecticut, where most people worry about what to be seen in and who to be seen with, Emma Thomas would rather not be seen at all. She's more concerned with feigning perfection—pulling down her sleeves to conceal the bruises, not wanting anyone to know how far from perfect her life truly is. Without expecting it, she finds love. It challenges her to recognize her own worth―at the risk of revealing the terrible secret she's desperate to hide.

One girl's story of life-changing love, unspeakable cruelty, and her precarious grasp of hope: Reason to Breathe is the first instalment of the acclaimed Breathing Series.
This is the First book in the Breathing series. I've wanted to read this series for ages now and I really want to get to this soon. I've been waiting to read this book for what felt like forever.
Do I own It? No
Verdict: KEEP
Priority Level (1-10, 10 Meaning Top Priority)? 8
Sanctum by Sarah Fine
"My plan: Get into the city. Get Nadia. Find a way out. Simple."

A week ago, seventeen-year-old Lela Santos's best friend, Nadia, killed herself. Today, thanks to a farewell ritual gone awry, Lela is standing in paradise, looking upon a vast gated city in the distance—hell. No one willingly walks through the Suicide Gates, into a place smothered in darkness and infested with depraved creatures. But Lela isn't just anyone—she's determined to save her best friend's soul, even if it means sacrificing her eternal afterlife.

As Lela struggles to find Nadia, she's captured by the Guards, enormous, not-quite-human creatures that patrol the dark city's endless streets. Their all-too-human leader, Malachi, is unlike them in every way except one: his deadly efficiency. When he meets Lela, Malachi forms his own plan: get her out of the city, even if it means she must leave Nadia behind. Malachi knows something Lela doesn't—the dark city isn't the worst place Lela could end up, and he will stop at nothing to keep her from that fate.
I don't know much about this series, and I haven't heard much about it either, and it doesn't seem interesting enough to want to read it anytime soon over all the other books I want to read.
Do I own It? No
Verdict: REMOVE
Hush, Hush by Becca Fitzpatrick
A SACRED OATH
A FALLEN ANGEL
A FORBIDDEN LOVE

Romance was not part of Nora Grey's plan. She's never been particularly attracted to the boys at her school, no matter how hard her best friend, Vee, pushes them at her. Not until Patch comes along. With his easy smile and eyes that seem to see inside her, Patch draws Nora to him against her better judgment.

But after a series of terrifying encounters, Nora's not sure whom to trust. Patch seems to be everywhere she is and seems to know more about her than her closest friends. She can't decide whether she should fall into his arms or run and hide. And when she tries to seek some answers, she finds herself near a truth that is way more unsettling than anything Patch makes her feel.

For she is right in the middle of an ancient battle between the immortal and those that have fallen – and, when it comes to choosing sides, the wrong choice will cost Nora her life.
I don't think I'll be reading this one anytime soon. I haven't really felt the desire to pick it up. However, I might spontaneously pick it up some day, but for now it doesn't interest me. I do own all the books in this series though.
Do I own it? Yes
Verdict: Keep
Priority Level (1-10, 10 Meaning Top Priority)? 1
Towering by Alex Flinn
High in my tower I sit. I watch the birds fly below, the clouds float above, and the tall green forest stretch to places I might never see.

Mama, who isn't my mother, has kept me hidden away for many years. My only companions, besides Mama, are my books—great adventures, mysteries, and romances that I long to make my reality. But I know that no one will come to save me—my life is not a fairy tale after all.

Well, at least no one has come so far. Recently, my hair has started to grow rapidly and it's now long enough to reach the bottom of the tower from my window. I've also had the strangest dreams of a beautiful green-eyed man.

When Mama isn't around, I plan my escape, even if it's just for a little while. There's something—maybe someone—waiting for me out there and it won't find me if I'm trapped here Towering above it all.
I'm kind of conflicted about this one, it sounds interesting, but it doesn't have very good reviews. I think I'd like to still read it though, it's a fairy tale retelling of Rapunzel.
Do I own it? No
Verdict: KEEP
Priority Level (1-10, 10 Meaning Top Priority)? 5
Damian's Oracle by Lizzy Ford
Inspired by Slavic mythology, Damien's Oracle is the entree into the ongoing battle between good and evil over the fate of humanity. The White God, Damian, and his Guardians protect the world from the Black God and his monsters while rescuing Naturals – humans with extraordinary paranormal gifts – from the Black God, who would kill or convert them.

Caught in the middle is cool-headed Sofia, a Natural whose gift will tip the scales in the war. Sofia begins her transformation from human into oracle, the first in thousands of years. Damian rescues her from the Black God in time to complete a ceremony that will bind her to him for eternity. Sofia struggles with her new world and her role as an oracle and Damian's mate while haunted by a mysterious man from Damian's past who's supposed to be dead. Unbeknownst to her, her link to the dead man may be all that saves Damian, his Guardians, and the fate of humanity.

While he wants nothing more than for the petite beauty to take her place at his side like the oracles of legend did his White God forefathers, Damian can't quite rationalize having to win her over instead of command her. Further complicating his life is the sobering realization that there are spies in his organization who are helping the Black God take out his Guardians. Damian must help Sofia reach her potential fast, especially when a threat from his past returns.
I love the concept of this book. The story is based on Slavic Mythology which is different so far to what else is out there.
Do I own it? No
Verdict: KEEP
Priority Level (1-10, 10 Meaning Top Priority)? 6
I have removed 3/10 books from my TBR this week! Not too bad and helps remind me of why I wanted to read some of these books in the first place. If you enjoyed this & would like to see what else is on my Goodreads TBR, stick around for more.
Have you read any of these books? If you've read any of these books, I'd love to hear your opinions about them. How do you feel about my choices? Do you think I've Made the right decisions? Would you have kept or gotten rid of any of these book?