From April 9-15, I'll be participating in the Unicorn Read-a-thon. The Unicorn Read-a-thon is a new read-a-thon, which is Hosted by Roya @ UnicornHunterBooks, Emily @ SnowWhiteGrl, and Kayla @ HeroicPages.
The aim of this read-a-thon is to read books that have magical creatures on the cover, in the story, or in the title. I've been needing a reason to pick up some of these books.
Now onto my TBR:
---
Fantastic Beast and Where to find them Screenplay

---
Harry Potter & the Goblet of Fire by J.K. Rowling
---
The Bronze Key by Holly Black & Cassandra Clare
Magic can save you.
Magic can kill you.

Students at the Magisterium are supposed to be safe. Under the watchful eyes of the mages, they are taught to use magic to bring order to a chaotic world.

But now the chaos is fighting back. Call, Tamara, and Aaron should be worrying about things like pop quizzes and magic contests. Instead, after the shocking death of one of their classmates, they must track down a sinister killer… and risk their own lives in the process.

As Call, Tamara, and Aaron discover, magic can only be as good as the person who wields it. In evil hands, it has the capacity to do immeasurable harm, unless it is stopped in time.

In this striking third book of Magisterium, bestselling authors Holly Black and Cassandra Clare present us with a school where anything, good or evil, can happen, and the only way to unlock the truth is to risk everything to find it.
---
An Authors Odyssey by Chris Colfer
In the highly anticipated continuation of the Land of Stories series, Conner learns that the only place to fight the Masked Man's literary army is inside his own short stories!

When the twins and their friends enter worlds crafted from Conner's imagination, finding allies no one else could have ever dreamed of, the race begins to put an end to the Masked Man's reign of terror. Can the twins finally restore peace in the fairy tale world?
---
Yellow Brick War by Danielle Paige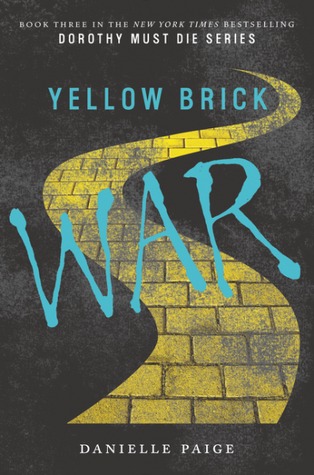 Once upon a time, there was a girl from Kansas named Dorothy.

You might know her as the Girl Who Rode the Cyclone. She ended up in Oz, where she became friends with the Tin Woodman, the Scarecrow, and the Cowardly Lion. But the temptation of magic was too much for her. She let it change her. Her friends became twisted versions of their former selves.

The magical land of Oz is now a dark and menacing place.

My name is Amy Gumm. Tornadoes must have a thing about girls from Kansas, because I got swept away on one too. I also landed in Oz, where Good is Wicked, Wicked is Good, and the Wicked Witches clued me in to my true calling:

Assassin.

The only way to stop Dorothy from destroying Oz—and Kansas—is to kill her. And I'm the only one who can do it.

But I failed. Others died for my mistakes. Because of me, the portal between the worlds has been opened and Kansas and Oz are both in danger. And if I don't find a way to close it?

Dorothy will make sure I never get to go home again.
---
The Akhenaten Adventure by P.B. Kerr

one-armed chauffer? + Twin djinn? + Three wishes?

Qwertyuiop! What does it all add up to? An amazing and magical adventure, for sure (and that's not counting the Rottweilers, Alan and Neil, who are not exactly the pets they seem to be).

Meet John and Philippa Gaunt, twelve year old twins who one day discover themselves to be descended from a long line of djinn. All of a sudden, they have the power to grant wishes, travel to extraordinary places (and not necessarily on public transportation), and make people and objects disappear.

Luckily (and luck does have something to do with it), the twins are introduced to their eccentric djinn-uncle Nimrod, who will teach them how to harness their newly found power. And not a moment too soon! Because John and Philippa are about to embark on a search to locate a monstrous looking (but supposed to be dead) pharaoh named Akhenaten, and his tomb, which may be holding seventy lost djinn.

Will the twins be strong and skilled and clever enough to outwit Iblis, the most evil djinn in the universe, and live to see another day–another city–another adventure?
---
The Fyrelit Tragedy by N & A Lochel
Zarkora … A city lost to darkness.
But everything that is lost, eventually must come to light.

A decade after the loss of their parents, Neleik and Ervine Fyrelit, two poor farm boys witness the kidnapping of their little sister, Sky. The Fyrelit brothers set off on a journey into darkness, unlocking secrets and revealing an unknown past beyond their imaginations.

They will meet loyal companions, face against powerful enemies, in a world that is unknown to them in hope of rescuing their sister.
---
The Iron Daughter by Julie Kagawa
Half Summer faery princess, half human, Meghan has never fit in anywhere. Deserted by the Winter prince she thought loved her, she is prisoner to the Winter faery queen. As war looms between Summer and Winter, Meghan knows that the real danger comes from the Iron fey—ironbound faeries that only she and her absent prince have seen. But no one believes her.

Worse, Meghan's own fey powers have been cut off. She's stuck in Faery with only her wits for help. Trusting anyone would be foolish. Trusting a seeming traitor could be deadly. But even as she grows a backbone of iron, Meghan can't help but hear the whispers of longing in her all-too-human heart.
---
So that's my TBR for the Unicorn Read-a-thon.  It's very ambitious, so I'm not planning on reading all of these. Are you going to participate? What are you planning on Reading? Let me know in the comments. I'd love to know what you're planning on reading, feel free to link your TBR. I hope you'll join in the read-a-thon.