This meme is hosted by Lia @ LostInAStory. The aim is to declutter your Goodreads To Be Read shelf. You sort the books on this list on date added (ascending) and do a weekly post discussing a few of them. Read the synopsis and decide whether or not you want to keep them.

Anyway, it works like this: Go to your goodreads to-read shelf, Order on ascending date added, Take the first 5 (or 10 if you're feeling adventurous) books, Read the synopses of the books, Decide: keep it or should it go?
For me, the aim of this meme is to reduce my current TBR down to the books I actually think I will get to soon. When deciding to keep or remove something I ask myself: Could I see myself reading this book this year? If the answer is no, I am removing it for now. There I will probably be a lot of books that I am removing now but will add back and read someday.
Number of books on my TBR shelf: 1800
Pure by Jennifer L. Armentrout
Being destined to become some kind of supernatural electrical outlet isn't exactly awesome–especially when Alexandria's "other half" is everywhere she goes. Seth's in her training room, outside her classes, and keeps showing up in her bedroom–so not cool. Their connection does have some benefits, like staving off her nightmares of the tragic showdown with her mother, but it has no effect on what Alex feels for the forbidden, pure-blooded Aiden. Or what he will do–and sacrifice–for her.

When daimons infiltrate the Covenants and attack students, the gods send furies–lesser gods determined to eradicate any threat to the Covenants and to the gods, and that includes the Apollyon… and Alex. And if that and hordes of aether-sucking monsters didn't blow bad enough, a mysterious threat seems willing to do anything to neutralize Seth, even if that means forcing Alex into servitude… or killing her. When the gods are involved, some decisions can never, ever be undone.
I read the first book in this series and enjoyed it a lot, I just never got around to reading this one. This one in the series was rumoured to be more original than the first and because I loved the author's writing and enjoyed the humour in the first book I would like to give Book 2.
Do I Own It? No
Verdict: KEEP
Priority Level (1-10, 10 Meaning Top Priority)? 7
Enclave by Ann Aguirre
New York City has been decimated by war and plague, and most of civilization has migrated to underground enclaves, where life expectancy is no more than the early 20's. When Deuce turns 15, she takes on her role as a Huntress, and is paired with Fade, a teenage Hunter who lived Topside as a young boy. When she and Fade discover that the neighbouring enclave has been decimated by the tunnel monsters–or Freaks–who seem to be growing more organized, the elders refuse to listen to warnings. And when Deuce and Fade are exiled from the enclave, the girl born in darkness must survive in daylight–guided by Fade's long-ago memories–in the ruins of a city whose population has dwindled to a few dangerous gangs.

Ann Aguirre's thrilling young adult novel is the story of two young people in an apocalyptic world–facing dangers, and feelings, unlike any they've ever known.
This is the First book in the Razorland series. I've wanted to read this series for ages now and I feel like I might get to it soon. The concept still really intrigues me.
Do I Own It? No
Verdict: KEEP
Priority Level (1-10, 10 Meaning Top Priority)? 8
The Summoning by Kelley Armstrong
After years of frequent moves following her mother's death, Chloe Saunders's life is finally settling down. She is attending art school, pursuing her dreams of becoming a director, making friends, and meeting boys. Her biggest concern is that she's not developing as fast as her friends are. But when puberty does hit, it brings more than hormone surges. Chloe starts seeing ghosts–everywhere, demanding her attention. After she suffers a breakdown, her devoted aunt Lauren gets her into a highly recommended group home.

At first, Lyle House seems a pretty okay place, except for Chloe's small problem of fearing she might be facing a lifetime of mental illness. But as she gradually gets to know the other kids at the home–charming Simon and his ominous, unsmiling brother Derek, obnoxious Tori, and Rae, who has a "thing" for fire–Chloe begins to realize that there is something that binds them all together, and it isn't your usual "problem kid" behaviour. And together they discover that Lyle House is not your usual group home either…
I don't remember when I put this one on my TBR, but I think it's been there a while. The synopsis sounds somewhat interesting. One day I think I might try to pick this one up.
Do I Own It? No
Verdict: KEEP
Priority Level
(1-10, 10 Meaning Top Priority)? 2

Tithe by Holly Black

Welcome to the realm of very scary faeries!

Sixteen-year-old Kaye is a modern nomad. Fierce and independent, she travels from city to city with her mother's rock band until an ominous attack forces Kaye back to her childhood home. There, amid the industrial, blue-collar New Jersey backdrop, Kaye soon finds herself an unwilling pawn in an ancient power struggle between two rival faerie kingdoms – a struggle that could very well mean her death.
Since reading The Darkest Part of the Forest, I've been wanting to read something else by this author. It looks intriguing. The Synopsis sounds really interesting .
Do I own It? No
Verdict: KEEP
Priority Level (1-10, 10 Meaning Top Priority)? 4
Glimmerglass by Jenna Black
It's all she's ever wanted to be, but it couldn't be further from her grasp…

Dana Hathaway doesn't know it yet, but she's in big trouble. When her alcoholic mom shows up at her voice recital drunk, again, Dana decides she's had enough and runs away to find her mysterious father in Avalon: the only place on Earth where the regular, everyday world and the captivating, magical world of Faerie intersect. But from the moment Dana sets foot in Avalon, everything goes wrong, for it turns out she isn't just an ordinary teenage girl, she's a Faeriewalker, a rare individual who can travel between both worlds, and the only person who can bring magic into the human world and technology into Faerie.

Dana finds herself tangled up in a cutthroat game of Fae politics. Someone's trying to kill her, and everyone seems to want something from her, from her new-found friends and family to Ethan, the hot Fae guy Dana figures she'll never have a chance with… until she does. Caught between two worlds, Dana isn't sure where she'll ever fit in and who can be trusted, not to mention if her world will ever be normal again.
The cover alone already makes me want to read it, I love this cover, it's just so pretty! The story sounds really interesting too
Do I Own It? No
Verdict: KEEP
Priority Level (1-10, 10 Meaning Top Priority)? 2
Struck by Jennifer Bosworth
Mia Price is a lightning addict. She's survived countless strikes, but her craving to connect to the energy in storms endangers her life and the lives of those around her.

Los Angeles, where lightning rarely strikes, is one of the few places Mia feels safe from her addiction. But when an earthquake devastates the city, her haven is transformed into a minefield of chaos and danger. The beaches become massive tent cities. Downtown is a crumbling wasteland, where a traveling party moves to a different empty building each night, the revellers drawn to the destruction by a force they cannot deny. Two warring cults rise to power, and both see Mia as the key to their opposing doomsday prophecies. They believe she has a connection to the freak electrical storm that caused the quake, and to the far more devastating storm that is yet to come.

Mia wants to trust the enigmatic and alluring Jeremy when he promises to protect her, but she fears he isn't who he claims to be. In the end, the passion and power that brought them together could be their downfall. When the final disaster strikes, Mia must risk unleashing the full horror of her strength to save the people she loves, or lose everything.
This is the First book in the Struck series. I haven't really heard much about this, but I really like the cover, and the premise sounds interesting.
Do I Own It? No
Verdict: KEEP
Priority Level (1-10, 10 Meaning Top Priority)? 6
The Goddess Test by Aimee Carter
Every girl who had taken the test has died.

Now it's Kate's turn.

It's always been just Kate and her mom – and her mother is dying. Her last wish? To move back to her childhood home. So Kate's going to start at a new school with no friends, no other family and the fear that her mother won't live past the fall.

Then she meets Henry. Dark. Tortured. And mesmerizing. He claims to be Hades, god of the Underworld – and if she accepts his bargain, he'll keep her mother alive while Kate tries to pass seven tests.

Kate is sure he's crazy – until she sees him bring a girl back from the dead. Now saving her mother seems crazily possible. If she succeeds, she'll become Henry's future bride and a goddess.
This is the first book in the Goddess Test series. I'm still curious about this book, because the premise sounds interesting. I'm gonna try to read it.
Do I Own It? No
Verdict: KEEP
Priority Level (1-10, 10 Meaning Top Priority)? 2
Pawn by Aimee Carter
For Kitty Doe, it seems like an easy choice. She can either spend her life as a III in misery, looked down upon by the higher ranks and forced to leave the people she loves, or she can become a VII and join the most powerful family in the country.

If she says yes, Kitty will be Masked—surgically transformed into Lila Hart, the Prime Minister's niece, who died under mysterious circumstances. As a member of the Hart family, she will be famous. She will be adored. And for the first time, she will matter.

There's only one catch. She must also stop the rebellion that Lila secretly fostered, the same one that got her killed …and one Kitty believes in. Faced with threats, conspiracies and a life that's not her own, she must decide which path to choose—and learn how to become more than a pawn in a twisted game she's only beginning to understand.
The first book in a series. I been wanting to read this for a while now, it sounds fairly interesting. One day I think I might try to pick this one up.
Do I Own It? Yes
Verdict: KEEP
Priority Level (1-10, 10 Meaning Top Priority)? 8
The Selection by Kiera Cass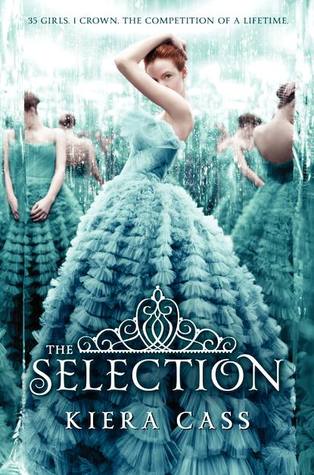 For thirty-five girls, the Selection is the chance of a lifetime. The opportunity to escape the life laid out for them since birth. To be swept up in a world of glittering gowns and priceless jewels. To live in a palace and compete for the heart of gorgeous Prince Maxon.

But for America Singer, being Selected is a nightmare. It means turning her back on her secret love with Aspen, who is a caste below her. Leaving her home to enter a fierce competition for a crown she doesn't want. Living in a palace that is constantly threatened by violent rebel attacks.

Then America meets Prince Maxon. Gradually, she starts to question all the plans she's made for herself—and realizes that the life she's always dreamed of may not compare to a future she never imagined.
This is the first book in The Selection series. I'm still interested in this because I've heard literally nothing but amazing things about it, so I'll have to read it eventually.
Do I own It? Yes
Verdict: KEEP
Priority Level (1-10, 10 Meaning Top Priority)? 9
Chosen by P.C. & Kristin Cast
Dark forces are at work at the House of Night and Zoey Redbird's adventures at the school take a mysterious turn. Her best friend, Stevie Rae, is undead and struggling to maintain a grip on her humanity. Zoey finds herself in the very unexpected and rare situation of having three boyfriends. Mix a little bloodlust into the equation and the situation has the potential to spell social disaster. Just when it seems things couldn't get any tougher, vampyres start turning up dead. Really dead. It looks like the People of Faith are tired of living side-by-side with vampyres. But, as Zoey and her friends so often find out, how things appear rarely affects the truth…
This is the third book in the House of Night series, and I have read the other two books. But I didn't really like them that much.
Do I own it? No
Verdict: REMOVE
I have removed 1/10 books from my TBR this week! I didn't remove many this week, but still this was extremely enjoyable. I will hopefully be doing this each week until I reach the end of my TBR. So if you enjoyed this & would like to see what else is on my Goodreads TBR, stick around for more.
Have you read any of these books? If you've read any of these books, I'd love to hear your opinions about them. How do you feel about my choices? Do you think I've Made the right decisions?