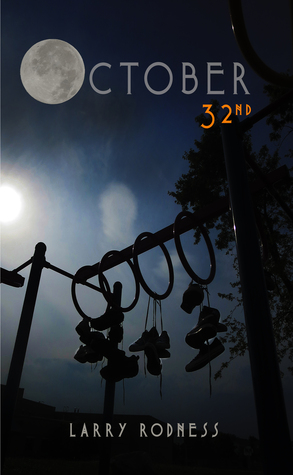 October 32 by Larry Rodness
Published By: Deer Hawk Publications
Publication Date: October 31st, 2016
Genres: Adult, Mystery
Format: eBook
Pages: 177
Rating: 

Date Read: April 6th, 2017
Links: Goodreads | B&N | Amazon | Author's Website
It's October 31, and insurance agent Alexander Malefant is sent to picturesque Elora during its annual Halloween festival. No sooner does Alexander arrive than he witnesses the near-drowning of a boy bobbing for apples. Shortly after that, a group of children are attacked by crows. Later that evening, all the children in the village suddenly disappear. Soon, every person becomes a suspect as residents frantically try to discover what happened to the children. Who or what is behind these disappearances, and can they get the children back before it's too late?
I received a copy of October 32  from the author for review consideration. This has in no way influenced my opinion of this book.
Alexander Malefant is making a living day by day travelling as an insurance salesman following the tragic death of his daughter. When he gets sent to the small town of Elora on Halloween, strange things begin to happen! A child is nearly drowned when bobbing for apples, some crows attack a bunch of children, but trick or treating must go on, until the fog rolls in and then mysteriously all the children in the town disappear without a trace, their shoes left hanging from a tree! As Alexander becomes involved in the search for the children, deep secrets within the town and our main characters are uncovered.
The story starts off a little slow at first but when it starts to speed up, this book is very had to put down. As the story moves on and the more information you're given, the more you need to know and try to figure things out.
I liked that this book kept me guessing and wasn't predictable. I had lots of theories as I was reading. This book took me completely by surprise. October 32nd wasn't at all what I was expecting it to be.
It is a well written story with plenty of action and plenty of interesting, well-developed characters. I love the character building for the main character, Alexander. He is very well explained and I found that I could understand him quite well, without veering from the main story.
The writing flows well from chapter to chapter. Most chapters ended on some sort of cliff-hanger, which I really liked. It worked, and made me want to read on. I enjoyed the plot, which is full of amazing twists and turns. There was a number of twists throughout about the disappearances and about some of our main characters. The mystery was intriguing, but not too easy to figure out. The storytelling is brisk, but there's enough detail given that you can still imagine the author's world and surroundings.
The ending of this book is something that I did not see coming. This book has kept me on the edge of my seat throughout the whole thing. Although, I did like the ending and it certainly isn't what I was expecting, there was a lot of hype throughout the book and it was fast-paced but I felt that there could have been more time spent on the ending.
On one hand, I loved the ending and on the other I was a little disappointed. There was all this build up, but instead of exploding, it just seemed to fade away.
Overall, I enjoyed this book. It was a good solid storyline, well written and great plot twists, though it did take me some time to get used to the slow pace at the start. But the concept, the eeriness and the characters kept me hooked. Once I got into the story I had to keep reading.
If you're in the mood for a mystical mystery, with a lot of twists and turns, then I recommend you pick up October 32!